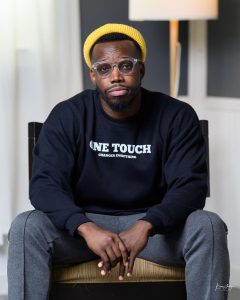 Gospel artist Jabari Johnson is in what many would call his "winning season" after winning a  Stellar Award, performing "Try Jesus" with Tobe Nwigwe at the BET Awards, and earning his first #1 record on the Billboard Gospel National Airplay Chart for "Fixed Fight." Johnson's new album ONE TOUCH will be available this Friday, February 4th.
Jabari Johnson offers his newest album titled ONE TOUCH. The title track is an infectious and reflective song that recounts the well-known biblical story of the woman with an issue of blood. It cleverly tells the story and then draws the listener in to reflect on their own encounter with Jesus. Johnson's powerful and gritty voice accompanied by his guitar deliver an ear-grabbing experience and will pierce the hearts and thoughts of those that hear "One Touch". In 2021, Jabari Johnson's popular single of encouragement, "Fixed Fight" earned #1 status on the Billboard Gospel National Airplay Chart – making Johnson's first #1 single. Jabari Johnson called on songstress Krystal Broussard to assist in delivering a powerful message to listeners and followers of Christ. 
"I'm so glad this message is resonating with so many people. No matter who you are, I want you to tell everyone you know to stop stressing. The victory bill has already been signed! Victory was ours before this even started, it's a fixed fight," shares Jabari Johnson.