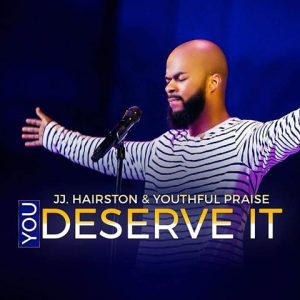 J.J. Hairston and Youthful Praise add another accolade to their resume of success with the Top 10 debut of "You Deserve It" that hits No. 8 on this week's Billboard Magazine Gospel Digital Songs sales chart.
 The rousing song of praise is the first single released by Hairston's newly formed JamesTown Music label, which is exclusively distributed through Entertainment One Distribution.
This single was recorded as a part of Youthful Praise's live concert recording at City of Praise Ministries in Hyattsville, Maryland. Thousands were in attendance at the session that covers the group's fifteen year recording history with updates of their classic songs like "Lord, You're Mighty," "Awesome God," "Resting On His Promise," "After This," and "Incredible God, Incredible Praise."
Formed in 1991 out of Turner's Faith Temple in Bridgeport, CT, Youthful Praise was originally known as Teens of TFT and served as the choir for the church pastored by Bishop J.C. White and Evangelist Gloria White-the parents of Hairston's wife Trina Hairston. Since that time, the group has become one of the most in-demand acts in gospel music with a string of hit albums and best-selling radio singles. The group has performed on "Good Morning America," various Black Entertainment Television (BET) TV specials and also shared the stage with Miss Piggy (of The Muppets) on an ABC Network "Lady Gaga" television special.