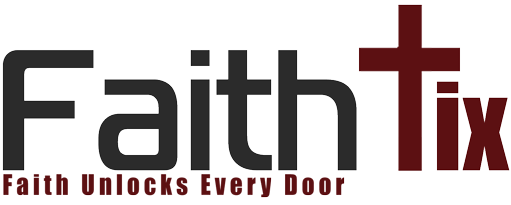 After nearly three years of development, Urban Roundup Group, LLC. (creators of uGospel.com) has launched a brand new business venture, FaithTix.com. With a rich, award-winning history serving the Faith-Based community for over 13 years, the company decided to enhance its marketing expertise by becoming a one stop shop for its clients. Thus, FaithTix.com, a Faith-Based event ticketing and registration service, was created.
If you're looking for a fast, secure way to sell tickets for your event or a system that handles registration for your conference, search no more because FaithTix.com is here for you! FaithTix.com was launched to fill the void within the Faith-Based community for advanced promotional ticketing and registration services. No event is too big or too small for FaithTix.com to handle. You will see FaithTix.com's system features many of the same phenomenal functions that are available in mainstream ticketing companies.
Ticket Buyers/Registrants are able to place orders on FaithTIX.com 24 Hours a Day. In addition as an added convenes, orders can be placed by using the FaithTIX.com call center by calling 1.844.FAITHTIX. Buyers will experience great customer service with quick order processing.
"Creating FaithTix.com has allowed us to make planning, marketing and executing an effective event for our clients much easier. We take pride in being able to provide an outlet that not only benefits our greatly appreciated clients, but their consumers as well," says Khalif M. Townes, President/CEO of Urban Roundup Group, LLC.
FaithTIX.com offers a number of different ticketing and registration types. You can use General Admission, in which attendees are seated anywhere in the venue, or Reserved Sections, such as VIP, Main Floor, Balcony, etc. Reserved Sections work just like General Admission, except attendees can only be seated in seats in the section available for their ticket. You also have the option of setting up events with reserved tables, such as banquets, or selling vendor space by allowing vendors to select tables they want to use at your conference or event.
General Admission and/or Reserved Section Events can be setup within a matter of minutes with our easy to use Event Submission Form. All a user has to do is goto http://newevent.FaithTIX.com and follow the steps. Once The event is submitted, an Account Rep will review details to make sure everything is accurate and make your event Live.
Events and Venues that allow attendees to choose specific seats have the advance option of using the FaithTix.com Interactive Seating Chart. Our Interactive Seating Chart permits the ability for complex seat/section pricing; for example, seats in the middle may cost more than seats on the side. Or Seats in Section X are higher/lower than seats in Section Y.
Clients who utilize FaithTix.com will not be charged a setup fee unless it's for a venue that requires reserved seating. The setup fee will cover the interactive seating chart and venue creation in FaithTix.com's system. Event promoters/planners will receive full face value from each registration or ticket that is sold. Settlements are processed 24/48 hours after an event and paid via paper check, direct deposit, or wire transfer. Clients are able to log in and monitor event sales in real time, scan tickets for validation and print a master attendee list. Also, FaithTix.com provides a convenient solution for event attendees with an online scanning system which allows them to validate E-Tickets.
With the purpose of becoming a leading event ticketing company in the Faith-Based community, FaithTix.com has set forth specific client satisfaction guarantees. The new entity guarantees an assurance that the company is dedicated to its clients.
For more information visit www.FaithTix.com