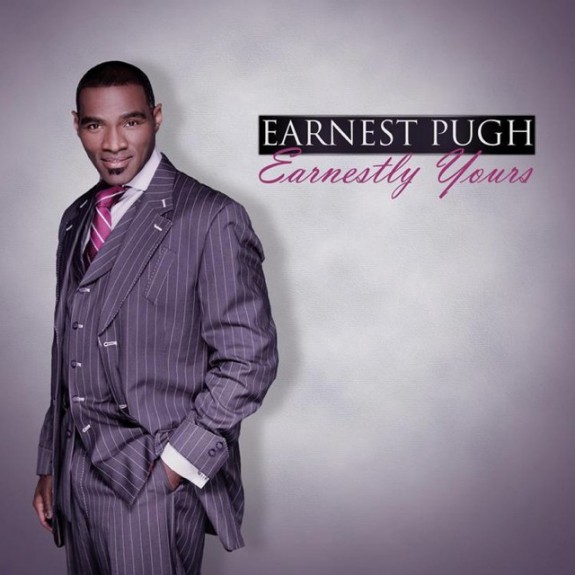 Earnest Pugh, an En Sound Male Vocalist of the Year, Independent Music Award Winner for Gospel Album of the Year, and Gospel music's new leading man, was "Earnestly Ours" for an exclusive interview with uGospel.com. His fourth album, Earnestly Yours debuted at #1 on last week's Billboard Top Gospel Albums chart and maintains the position this week.
uGospel.com asked Pugh if he had any predictions that his album would debut at #1 prior to its release, to which he replied, "Not at all. I knew Kerry Douglas and Black Smoke had done an incredible job marketing, promoting and distributing Earnestly Yours, but I could not see the forest for the trees."
Today marks Pugh's second week at #1 on Billboard. When asked how it feels to achieve such a great accomplishment Pugh modestly answered, "To be honest, I have been in "La La Land" since last week. It's so surreal. I am so blessed to be a blessing to God's people via this platform. I realize that to whom much is given, much is required, so I do not take this moment lightly. It's a huge responsibility."
Pugh is the first artist represented by an independent record label (Black Smoke Music) to debut at #1 on Billboard Top Gospel Albums chart. A triumph so grand is uncommon in the music industry period. uGospel.com asked Pugh what factors played a role in his success on an independent label? "Well, the indies have always caught my attention as an artist because of their passion, dedication and ability to be so "hands on." To me, that affords me the opportunity to ensure that my DNA is in and upon every aspect of the record, from song and producer selection to the photographer and graphics designer. That means a great deal to me as the one on the creative side of the desk. Kerry Douglas has the pulse of the industry in the area of radio and is untouchable. I am blessed to have merged with him and  very optimistic about where we will go futuristically," said Pugh.
Reaching #1 on Billboard is a moment in an artist's life that they will never forget, especially when it's the debut of an album. Many will agree it's a life changing experience. We wanted to find out what was going through Pugh's mind as he learned of this milestone in his career. Therefore, we asked Pugh of his location when he found out Earnestly Yours debuted at #1? "Man, I was sitting on the side of my bed, resting from about 10 consecutive days of concerts, etc. So I was reluctant to take the call from the label because I had declared that as my Sabbath Day. Something said answer it and that is when I got the news. I think my entire housing development heard my response!" replied Pugh. We're sure they did, debuting at #1 is a great accolade to celebrate.
Earnestly Yours' debut forced (Kirk Franklin, Mary Mary and Trin-i-tee 5:7) three of the industry's top artists' albums to drop a slot, making room for the new release. Victory over such heavyweight contenders is an accomplishment any artist would be honored to have as a notch under his belt. Regarding his initial reaction to the news, Pugh told us, "I was sort of in shock because I study the Billboard numbers like crazy, and my mind was focused on the fact that Kirk Franklin moved close to 10k the week prior to my release. So in my mind, getting #1 was unrealistic for me. I got the news that the entire CD had reached #8 on iTunes the day before my numbers came out, but it still did not register in my brain that with pre-sales, downloads, Wal-Mart and CBA stores we would have even close to enough units to get the top spot."
Who is the first person someone calls when they find out their album debuts at #1? Pugh's first phone call to share his astounding news was to his daughter, Kira. Obviously a fan and supporter of her father, Kira's response to the news was, "Sir… You're late… I already know!"
When asked who he would like to thank for the success of Earnestly Yours so far, Pugh said, "God, Family, Friends and those who stuck by me through some of the roughest moments in this last year: The EPM Music Group and Black Smoke Music Worldwide."
Finally, uGospel.com wanted to know what advice Pugh would give to other artists on independent record labels, with dreams of creating a #1 Gospel album. "Work hard, produce quality music, honor your word and stay away from negative people," Pugh answered.
Earnest Pugh is currently on a promo tour supporting his #1 album, Earnestly Yours. Check your local listings for dates/venues and be sure to check him out. Also, make sure you purchase a copy of Earnestly Yours! Visit www.earnestpugh.com or www.mrkerrydouglas.com for more information on this exciting artist.
Interview by: Michael Jones for uGospel.com