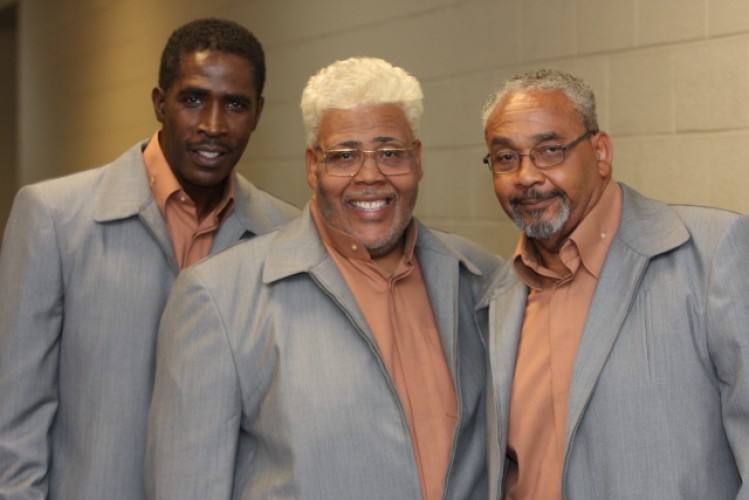 While preparing for a performance at the taping of BET's Bobby Jones Gospel, Rance Allen, front man of The Rance Allen Group, gave uGospel.com an exclusive, entertaining interview. In the interview he shares his very modest thoughts regarding his career, the future and being iconic in the Gospel Music Industry. Rance opens up about what puts a little pep in his step, his personal favorite song and his desire for a future in acting.
The Rance Allen Group is one of the most explosive groups to emerge in the Gospel Music Industry. Their sanctified soul hits such as "Ain't No Need of Crying," "I Belong To You," and their cover of The Temptation's "Just My Imagination" placed them at the top of the charts, and allowed them to pave the way for other artists.
In the decades since, the Allen Brothers, Rance, Tom, and Steve, have built on that foundation with hit song after hit song, including the R&B crossover smash "Miracle Worker," "Do Your Will," and "Something About The Name Jesus." The group's 2004 album, The Live Experience, is arguably the best-selling album of their career. The project features some of their fan favorites with cameos by modern-day Gospel megastars such as Kirk Franklin, Fred Hammond and LaShun Pace.
Celebrating their 40th anniversary, the group released, The Live Experience II: Celebrating 40 Years of Music and Ministry on January 25, 2011. Outside of including two medleys of their past hits, the new set is comprised of future classics such as "You That I Trust" and "Angel." Joining The Rance Allen Group for their musical merry-go-round are Gospel's First Lady, Shirley Caesar; veteran gospel star Vanessa Bell Armstrong; and the life of any musical party, Paul Porter.
uGospel.com: Rance, how are you doing today?
I'm doing good Mike; it's good to be with you.
uGospel.com: I understand you're in DC preparing for BET's Bobby Jones Gospel taping.

Yes we're going to be recording for Dr. Jones' new season for next year.
uGospel.com: Is there anybody that you're looking forward to see this weekend?
Oh, it's always a joy meeting the other great Gospel artists that are always there. Every time you go to do Bobby's show you're going to meet some awesome people in the industry that do what we all do.
uGospel.com: So you're currently on tour for The Live Experience ll?
Yeah, we're still touring with that. Oh man, the Lord has been blessing us. About three weeks ago we hooked up on the road with my godson, John P. Kee and Kirk Franklin. Oh man, we did a three city tour and it was just wonderful! Lots and lots of people came out and likewise, lots and lots of people were blessed.
uGospel.com: How does it feel to still be touring after being in the industry for nearly five decades?
Mike, I just got to tell you… Myself, and my brothers, we feel and we actually know that we are three blessed brothers. You know, if you can stay out here five years, you've accomplished something. But, when you can stay out here 45 years, then you know God is truly showing favor to you. We feel real favored and blessed, highly favored and blessed by the Lord.
uGospel.com:  You released The Live Experience II earlier this year. The live video for your radio single "You That I Trust" has reached over 55,000 views on YouTube with plenty of comments from fans regarding how the song has influenced their lives. How does that make you feel as a musician?
Well I'll tell you what; I'm truly excited now because you just gave me a piece of information (Laughs) that I didn't know, regarding the 55,000 people who checked in to see it. That's a blessing, a blessing beyond compare man. You know when you look at all of the circumstances and situations that we had to come through, it's so wonderful to be able to stand up and say that God is still good. We're real blessed, real blessed.
uGospel.com: In a recent interview you revealed that your newest radio single "Holy One" is your personal favorite from The Live Experience II project. Why is that particular song your favorite?
Oh yeah, that's one of my very, very, personal favorite songs. I want you and your listeners to not be surprised when you hear that.  It has just done wonders man, because any time you turn people on to God and tell them that He's the Holy One, what your telling them is that He's the one that cares about them, He's the one that keeps them, He's the one that delivers them, heals them, saves them, and the list goes on and on, you know? So anytime I get that chance to talk about the Lord to the masses or the Holy One, that's the totality of my message, He's the Holy One.
uGospel.com: How does it make you feel when top acts in the Gospel Music Industry, such as megastars like Kirk Franklin and Fred Hammond, say that you're their favorite singer?
Well, you know I want to say that, that's part of what keeps me going. The respect that I get from the Fred Hammonds and the Kirk Franklins and the John P. Kees. These young men, they have such respect for me. I don't know man; it puts an extra pep in my step. In a way it ministers to me. It says to me, "You don't have to be through because you're a little older than most." You know?
As a matter of fact, you can be used even more. Those guys are proof of that because they're always talking about me, and telling folks how they have always admired my music and musical approach. So I thank God for every word of encouragement I've received from everybody and those young men in particular.
uGospel.com: What's next for the Rance Allen Group?
Well Mike, we're going to do whatever God puts before us to do. Every door that he opens, it is my intention to walk through it. Every avenue that he allows me to travel, I'm going that way. The All Saints use to sing a song that says "Where you lead me I'll follow, I'll go with you all the way" and that's my plan with the Lord.
I know he's not through with me yet so, I'm just telling him daily, "What are we going to do today Lord? Whatever you want to do is what I want to do." That means more albums, more tours, more doors to be opened, more television, Mike, I'll tell you I'm even looking for a part in a movie. I want to be a movie actor before it's all over (Laughs).
uGospel.com: Well, if you speak it into existence I'm more than sure that it will happen.
You know that's what I'm doing; I'm speaking it into existence. Yes Lord, I thought I'd send it out over your air waves (Laughs).
uGospel.com: I'm rooting for you; hopefully this interview will be read or heard by someone interested in casting you in their movie. But, how can fans stay in touch with you?
On the computer you go to theranceallengroup.com, just like that you can find us and all the information about us and how to get in contact with us.
uGospel.com: Ok Rance, I want to thank you for blessing me with this interview and taking the time out of your busy schedule to talk with me today, I really enjoyed our conversation and may God bless you with all your future endeavors, on your future movie role , the rest of your tour and everything else.
Thank you so much Mike, thank you for your time and you be blessed alright?
uGospel.com: Thank you, you too.
Interview by Michael Jones for uGospel.com