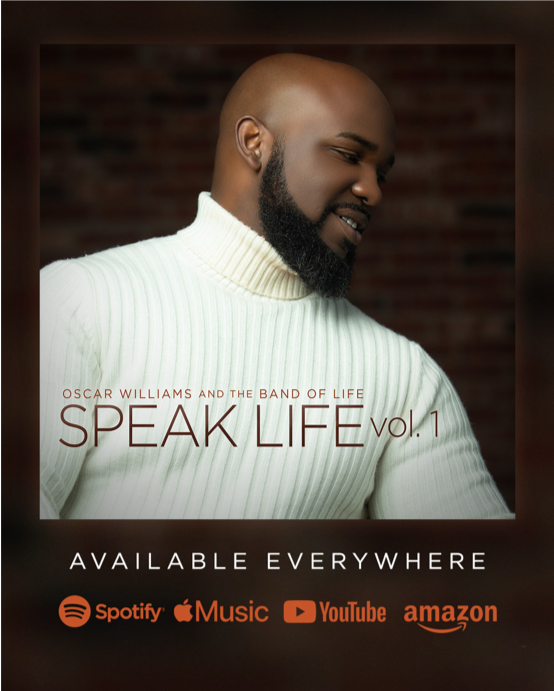 St. Louis, Missouri native Oscar Williams, is creditworthy for the music ministry birthed out of one of the most popular churches in America: The Potter's House, who's pastor just so happens to be a man who Time Magazine dubbed "America's Best Preacher," Bishop T.D. Jakes. 
Williams is also responsible for penning songs for Grammy® winning artists Tamela Mann, Smokie Norful and Karen Clark-Sheard. 
On his latest six song EP, Speak Life, Volume 1, Oscar Williams and The Band of Life enlisted a bevy of up and coming artists who beautifully bring all six songs to life. C. Ashley Brown-Lawrence (Hezekiah Walker) shines bright on the current single, Heal The Land, Tonya Baker and April Nevels have a spiritual singing spar on the mid-tempo Crushing Is Not The End, newcomer Joseph Anthony eloquently expresses his excitement about his Destiny, on the upbeat Right There, which is reminiscent of the Ricky Dillard classic "Great Things", Mitchell Ford creates a musical lane all for himself while the infectious track Soar boasts the lyrics: "Nothing can stop me, turning my dreams into reality" over a blazing dance track with vocals provided by ThadWorld. 
The EP rounds off with the beautiful Your Name, which features Williams on piano, along with some of the Dallas Forth Worth's finest.
Click here to download: https://music.apple.com/us/artist/oscar-williams-and-the-band-of-life/962511782  
Speak Life, Volume 1 is a breath of fresh air, specifically during these times of civil unrest that our country is experiencing. 
All songs were written by Oscar Williams, with production credits attributed to Thadeus Tribbett, Terry and Simeon Baker, Justin Savage, Mike Robinson and Robert "Sput" Searight. 
Speak Life, Volume 1 is available now on all digital outlets. 
FOLLOW OSCAR ON ALL SOCIAL MEDIA PLATFORMS: 
Oscarworldwide
Oscar Williams
About Oscar Williams 
Ordained Elder, Entrepreneur, Producer, Artist, Writer, Public Speaker, Musician, Composer, Teacher and a born Leader – these are but a few adjectives that describe the multi-faceted Oscar Williams, Jr. Born and raised in St. Louis, MO, Oscar began his formal music training at the age of eight. He completed his undergraduate studies at University of Missouri-St. Louis, receiving a Bachelor of Arts in Music, with an emphasis in piano. He later obtained a Masters of Music degree in Music Composition at Southern Methodist University and a Doctorate degree in Educational Leadership and Management at Dallas Baptist University, maintaining a 4.0 G.P.A. 
Oscar's professional career spans over two decades, touring the world and serving the United States department as a Music Ambassador in collaboration with programs such as: Rhythm Road and American Music Abroad. These responsibilities require him to tour several times a year with the assistance of government contracts and U.S. Embassy's around the world promoting American music values and culture. In 2014, Oscar started Speak Life, LLC – a global music, leadership and production company that specializes in creating avenues of positive communication through music. The "Speak Life Tour" was created to influence the way people communicate around the world. Some countries to host the tour have been: Chile, Argentina, Haiti, Venezuela, Brazil, Prague, Italy, Germany, Switzerland. In 2016, Oscar established the Speak Life Academy of Arts and Music, INC., a 501 (c)(3) company formed to hold a charter for the future Speak Life Academy of Arts and Music Charter School in Dallas, TX.
Oscar's recording career began in 2004 with his debut release, "Unstoppable," on the Warner Bros. label. This record produced chart topping hits such as "Safety," "You Mean The World To Me" and "You Are The One."