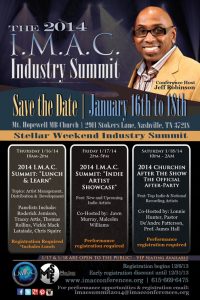 The Institute of Ministry, Arts and Cultivation (I.M.A.C.) will present a special Industry Summit January 17-19 in Nashville, TN.  The Industry Summit will feature sessions and discussions on Music Distribution, Artist Management, Artist Development and will feature some of Gospel and Christian Music's top executives. and recording artists.  Roderick Jemison and Vicki Mack Lataillade from Central South Distribution, Tracey Artis of I Hear Music, Inc, Thomas Rollins of New Day Distribution, Broadcast Media ExecutiveChris Squire, Jawn Murray of Always A List.com, singer/songwriter Malcolm Williams,Lonnie Hunter – recording artist and host of The Lonnie Hunter Show on Praise 103.9, Pastor and Gospel artist De'Andre Patterson, and Gospel recording artist James Hallare on tap to present sessions and guest host.  The Industry Summit will be held at Mt. Hopewell Church, 2911 Stokers Lane, Nashville with three days of classes, networking opportunities and musical showcases.
I.M.A.C. will conclude the 3-day Industry Summit with their popular Stellar Awards After Party "CHURCHIN' AFTER THE SHOW" Concert on Saturday, January 18 at 10PM.
I.M.A.C. is presenting this summit with the purpose of sharing panel discussion with Industry peers providing knowledge and wisdom to the attendees who will primarily consist of Indie Artists interested in learning how to better develop their craft, manage their organizations and grow their audiences.
Thursday 1/16/14  10am-2pm
I.M.A.C. Summit 2014: "Lunch & Learn"
Topics: Artist Management, Distribution, & Artist Development
Panelists Includes: Roderick Jemison, Tracey Artis, Thomas Rollins, Vicki Mack Lataillade, Chris Squire,
Individual Lunch & Learn Registration: $35 (includes lunch)
Individual 'VIP' Registration: $50 (Lunch, VIP Seating)
Friday 1/17/14  2pm – 5pm
I.M.A.C. Summit 2014: "Indie Artist Showcase"
Feat: New and Upcoming Indie Artists
Co-Hosted by: Jawn Murray, Malcolm Williams
Performance Registration (5mins): $150
THIS EVENT IS OPEN TO THE PUBLIC!!!! – VIP Seating: $20
Saturday 1/18/14  10pm – 2AM
Churchin After The Show 2014 -The Official "After-Party"
Feat: Top Indie & National Recording Artists
Co-Hosted by: Lonnie Hunter, Pastor De'Andre Patterson, Prof. James Hall
Performance Registration(5mins): $175 till 12/31/13 (5mins)
THIS EVENT IS OPEN TO THE PUBLIC! – VIP Seating: $20
2014 SPECIAL OFFERS
Individual: "I.M.A.C. Summit 2014 Premiere VIP": $60 includes: Lunch & Learn VIP Seating, Indie Artist Showcase VIP Seating, "Churchin After The Show VIP Seating
Artist: "I.M.A.C. Summit 2014 Value Package": $350 includes: 'Lunch & Learn'
Registration up to10 people, Indie Artist Showcase Performance Registration
Artist: "I.M.A.C. Summit 2014 Gold Package": $500 includes: 'Lunch & Learn'
Registration up to 10 people, "Churchin After The Show" Performance Registration