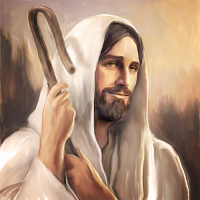 Jesus Daily Doves, a new, free app designed for mobile devices, is making it easy for people to share encouragement and inspiration in a fun and engaging way. Navigating through an interactive "room" guided by Jesus, users send e-Card prayers, inspiration, sympathy, forgiveness and more to contacts in their devices or on Facebook. Each inspiration is delivered by an animated Dove and features an uplifting saying paired with compelling background imagery.
Jesus Daily Doves is the latest offering from Aaron Tabor, M.D., creator of the Jesus Daily Facebook® Page at www.facebook.com/jesusdaily, which has reached as high as 328 million people in a single 28-day period. Jesus Daily Doves, available in Android or iOS format, seeks to expand the experience for its over 26 million Facebook Fans and website visitors, and extend to mobile users an easy way to both give and receive encouragement.
Within the app, all interactions involve Jesus, the central figure in the virtual room. Because of the app's global reach and the diverse representation of Jesus in different regions, there is a unique ability to select features based on one's own cultural vision of what Jesus looks like. The room is also customizable to reflect seasons, time periods, religious events and holidays, offering a more meaningful and dynamic experience. Within the room, users can navigate to settings and a help feature, as well as access a Book of Inspirations – a searchable repository of inspirational writings, popular Bible passages, excerpts from famous works and entries from guest writers.
Each Dove can be personalized and sent using just a couple of clicks. Users can also send a Dove to a single person or a group of people, including designated lists of family members, friends, church circles and school groups.
Those in need of prayers and encouragement can "ask" for support from others. Participants who ask receive a Dove from Jesus Daily and others who send Doves to the "in need of prayers" group. This feature allows people to both seek and give care anonymously.
To develop the Jesus Daily Doves app, Dr. Tabor partnered with MyRooms Inc., a Salt Lake City, UtahTechnology Company that specializes in mobile visual social networks (MyRooms.com).