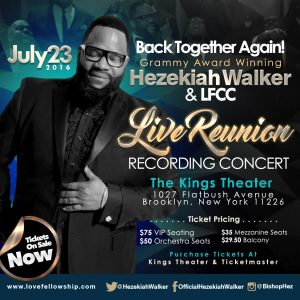 Hezekiah Walker and The Love Fellowship Crusade Choir have not sang together in 16 years but you would not know it if you were blessed enough to be at the Kings Theater on last Saturday evening. Walker, 53, took the stage in a chic white and black ensemble, while his choir looked classy in tuxedos and gowns. Once  the 250 piece choir, 16 piece band and the man of the hour hit the stage, there was no formal introduction. The bass line from one of their most popular songs, "Jesus Is My Help" filled the theater and once they hit the first line "Why should I worry," you knew that it was going to be an epic night!
And an epic night it was, as the three decade old choir pulled nothing but hits from their arsenal, "Jesus Is the Light," "Let the Redeemed," "Walk in the Light," "You Must Be Born Again", "Calling My Name," "How Much We Can Bear," and at least 20 more classics! Just listening the choir would have been enough but in true LFCC fashion, they bought along some friends.
Jonathan McReynolds gave "I'll Be Satisfied" (Live in New York) new life with his acoustic soul, while former LFCC member, Isaac Carree, reprised "Restore Your Joy In Me" from the same project. If you're a true LFCC fan, you remember Stazee Burnett's contralto on the 1986 classic "The Lord Will Make a Way Somehow" and even 30 years later, she sounded the same and commanded the stage in the same manner that she did decades prior. Sunday Best winner, Tasha Page-Lockhart, went toe to toe with the original lead singer, Janice Wallace, on the classic "Lord Send Your Spirit Down." But it was Timiney Figueroa's latest version of the song that made her a household name, "Calling My Name," that shifted the night to the next level of praise. As the night came to a close, Shawn McClemore, Marvin Sapp and Dorinda Clark- Cole reprised some of the later hits from LFC and I must admit Clark- Cole's version of "Lift Him Up" was mesmerizing to say the least. But the appearance that everyone was waiting for came in the form of ex-wife, Monique Walker, who sang "Second Chance" like it was her last chance. It was refreshing to see the two on stage together again and nobody was happier than their daughter, KyAsia, as she smiled at her parents nostalgia from her front row seat.
The likes of Fantasia, James Hall, Ricky Dillard, Donnie McClurkin, Israel Houghton, Adrienne Bailon, Jonathan Nelson and many other notables came to witness history as well as support the Grammy Award winning choir. Hezekiah Walker continues to make great music for the ages but on beautiful Saturday summer night, he reminded he and the Love Fellowship Crusade Choir took over 3,000 people on a musical journey that can only be compared to Walter Hawkins and the Love Center Choir's 25th Anniversary. It was a night that still has "Jesus Is My Help" ringing in my soul.
SOURCE:rootmagazineonline.com