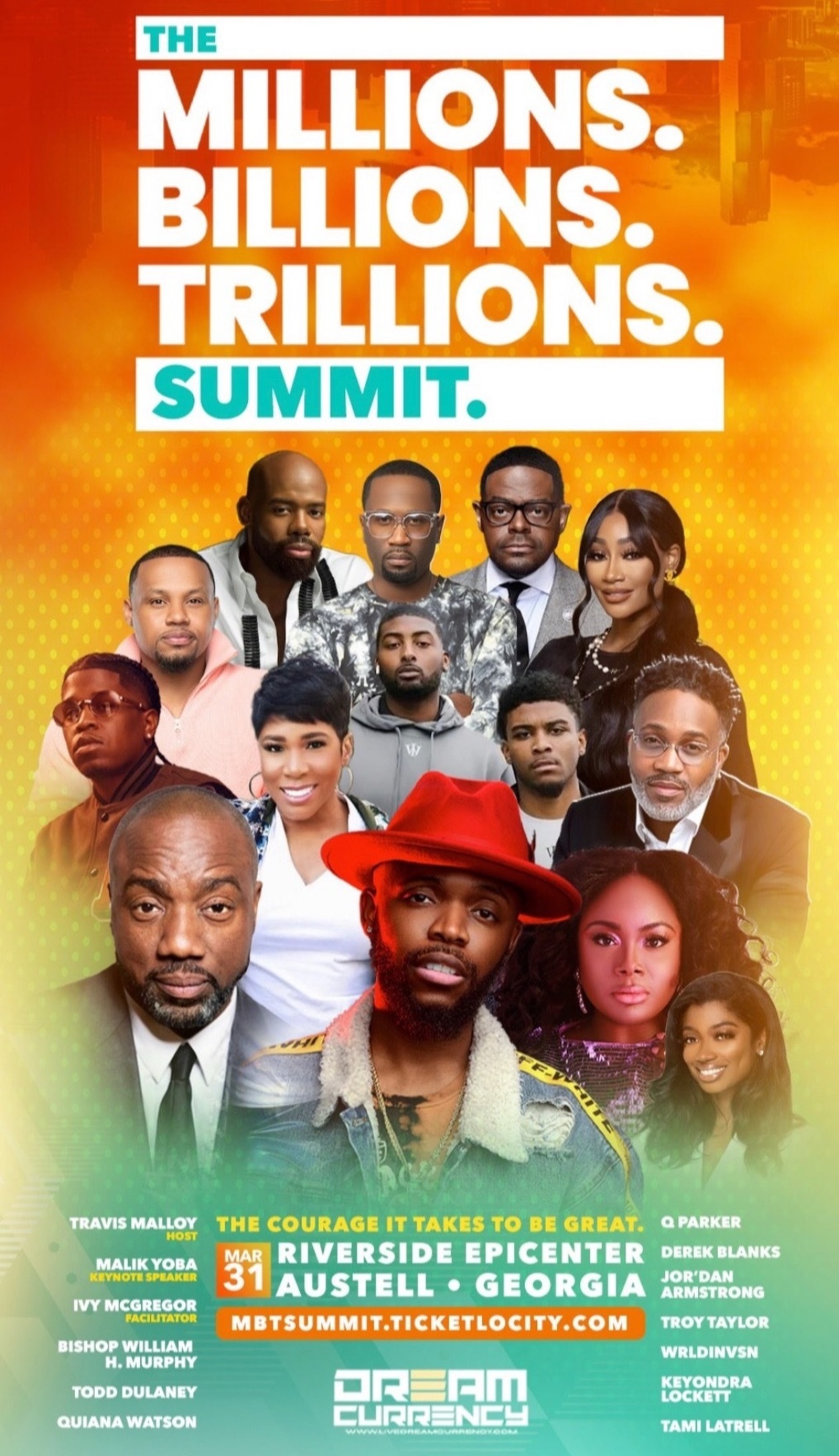 You are invited to attend the inaugural MILLIONS. BILLIONS. TRILLIONS. SUMMIT on March 31, 2022, in metro Atlanta, GA.  Organizers promise a power-packed day of inspiration, information, and networking.  The Summit, themed "The Courage It Takes To Be Great", aims to empower budding entrepreneurs and leaders and those who want to elevate their mindset.
The MILLIONS. BILLIONS. TRILLIONS SUMMIT is the brainchild of Grammy-nominated singer, songwriter, and fashion entrepreneur Travis Malloy.  The day will feature exclusive performances and appearances from today's leading culture influencers, thought leaders, executives, and entertainers. Presenters include Malloy, award-winning actor Malik Yoba, pastor and recording artist Bishop William Murphy III, motivational speaker Ivy McGregor, celebrity photographer Derek Blanks, Grammy Award-winning singer Q. Parker, and more.
With stimulating panel discussions and front-row viewings of Malloy's original creative content, attendees can expect panelists to share their powerful stories of failure and success.  There will also be opportunities for business advice from top industry professionals.
"I'm honored to build this platform where creatives can gather to glean from experts and millionaires who look just like them," says Travis Malloy, Summit Founder and Host.
The Summit will be held at The Riverside EpiCenter, 135 Riverside Parkway, Austell, GA.  Registration is open to anyone 18 years of age and up.  This event is an extraordinary opportunity to experience dynamic speakers who will inspire you to be great!  Get your seat to one of the most anticipated gatherings of the year.
To learn more about The MILLIONS. BILLIONS. TRILLIONS. SUMMIT and to register, click here.