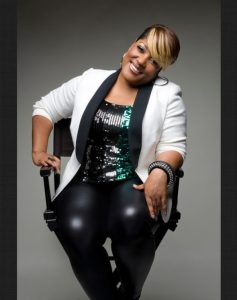 With her unrivaled brand of gospel/soul fusion, Grammy®-nominated songstress ANITA WILSON is back with her highly anticipated sophomore album VINTAGE WORSHIP. Adorned with her smokey alto, soul-stirring messages, and ambrosial musical arrangements, Vintage moves in as the long-awaited follow-up to her Grammy, Stellar, and Dove-nominated debut album WORSHIP SOUL.
Christening the electric, foot-stomper "That's What He's Done For Me" as the album's lead single, the song serves as the first representative of how VINTAGE WORSHIP truly lives up to its moniker. A modernized relic of gospel's golden days, "That's What He's Done For Me" rings from start to finish as an ode to traditional gospel, but seasoned with Anita's unmistakable soulful flair.
Already setting radio ablaze with its fiery vocal display and equally ignited musical accompaniment, the tune has been greeted with critical acclaim from some of the industry's key tastemakers. Wilson's "That's What He's Done For Me" was also featured on James Fortune new music Tuesday tonight.
The announcement of Wilson's forthcoming album comes shortly after news the gospel soulstress was listed as a featured artist and writer on WOW Gospel 2014. The "must-hear" collection of the year's brightest and best gospel offerings, Anita's double appearance on the album includes "Keep Doing What You're Doing" (written by Ms. Anita Wilson & Rick Robinson) from the upcoming release VINTAGE WORSHIP as well as Fellowship Chicago's hit "Worthy Is Your Name".