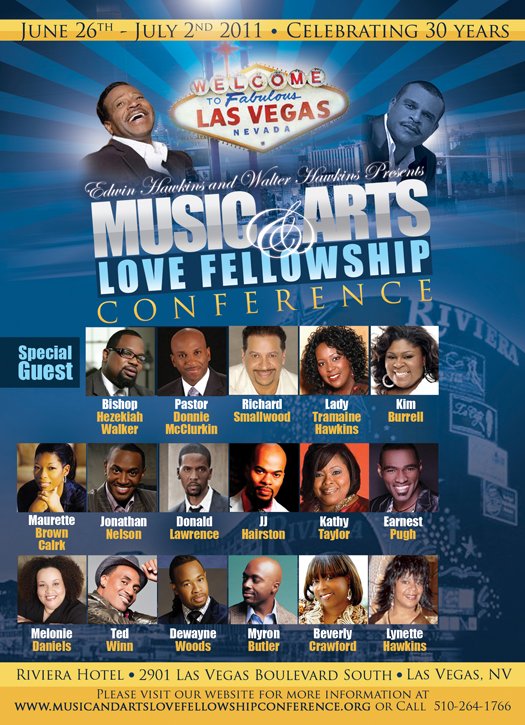 Edwin Hawkins, internationally known, multi-Grammy Award winning artist, will lead Love Fellowship Ministries as they present the 30th Annual Music and Arts Love Fellowship (MALF) Conference. This will be the organization's first national gathering since the passing of Hawkins' brother and co-founder, Bishop Walter Hawkins. The event is poised to reignite attendee's thirst for ministry, music and the arts. MALF will take place June 26 – July 2, 2011 at the Riviera Hotel, 2901 Las Vegas Boulevard South in Las Vegas, NV. Known around the world as the originator of the Urban Contemporary Gospel Sound, Hawkins' is best known for his platinum selling arrangement of "Oh Happy Day."
Now under the sole leadership of Edwin Hawkins, MALF promises to be a continued inspiration to all who attend. "We're excited to be continue the legacy of my beloved brother," shares Edwin Hawkins, co-founder of MALF. MALF will feature Gospel greats Richard Smallwood, Donald Lawrence, Bishop Hezekiah Walker, Tramaine Hawkins, Kim Burrell, JJ Hairston, Melanie Daniels, Myron Butler, Dewayne Woods, Beverly Crawford, Tye Tribbett, Ted Winn, Ann Nesby, and many more. "This conference is bittersweet for us, but we know that Walter would be overjoyed to know we are keeping his vision and his love alive," continues Hawkins.
Registration is required for workshops and trainings. Nightly services are free and open to the public. For more information, or to register, visit www.musicandartslovefellowshipconference.org or call 510-264-1766.