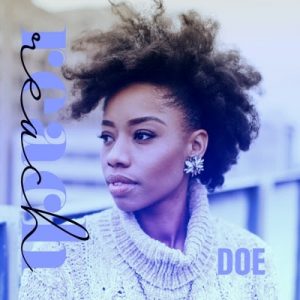 Coming off her first Grammy Awards nomination just last month.  Recording artist Doe has released (to radio and digital outlet stores) a powerful new single titled "Reach". The single is a game changer and truly stirs up the listeners spirit. While also reminding us that when we get to our weakest and darkest moments the answer is to "Reach". 
"Through this song I want people to know that reaching is a lifestyle. And in the moments when you don't have the strength to reach for God, if you ask him, he'll teach you!" ~ Doe
As a new solo artist Doe is quickly gaining traction in the music world. She's been added to the upcoming 34th Annual Stellar Awards talent lineup. She will be also be on the Jonathan Mcreynolds "Make More Room" (Dallas Tx) tour stop. Last month Doe was was featured by Ebony Magazine in their "28 Days of Ebony Love" campaign.
Doe is recognized globally for her infectious and powerful energy on and off stage. Her signature voice, eclectic creativity and sound has been heard on songs like "Cycles" by Jonathan Mcreynolds (which she received a Grammy Award Nomination) also leading on "He Wants It All" by foreverJONES and many other Billboard chart topping hits. "He Wants It All" written by Doe was included on Motown Gospel 20 year compilation album in 2018.
WHO IS DOE :
Doe is a passionate musical artist and songwriter from Shreveport, Louisiana. She currently travels the US and abroad singing and inspiring people to deepen and strengthen their relationships with the Lord. Beneath her ministry and calling as an individual lies the foundation of her family, foreverJONES. Doe, her parents, and her four brothers and sisters all have travel together and minister as a family band. To date, the group has been nominated for 2 GRAMMY®, 6 Stellars, and 4 Dove Awards. Although they have seen much success over the years, their hearts collectively desire to see families transformed, changed, and restored by their testimony, the power of God's presence and prayer. Doe has resolved in her heart to use every gift she possesses for the Glory of Jesus Christ.