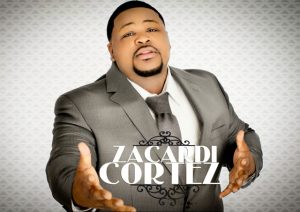 "We're breaking the hits," says Black Smoke Media Worldwide's CEO Kerry Douglas as he discusses his latest Top 10 radio smash, "One More Time." The soul-stirring ballad features gospel legend, John P. Kee and Douglas' next superstar singer, Zacardi Cortez. The single has been at radio for six months and just reached The Top 5 at Billboard.  "One More Time" is one of the songs anchoring the solo CD debut, "Zacardi Cortez: The Introduction" (Black Smoke Media Worldwide), scheduled for release on May 22, 2012.  The spine-tingling singer's premiere set will feature both contemporary and traditional gospel tracks with cameos by Donnie McClurkin, Lalah Hathaway and Kierra Sheard.
Douglas has been quietly building a platform for Cortez over the last six years. Although, Cortez has been singing professionally since his youth when he started off singing with John P. Kee's VIP Mass Choir ,  Douglas brought him to national prominence when he featured Cortez on James Fortune & FIYA's breakthrough Top 20 radio smash, "The Blood," in 2007. The various YouTube videos of Cortez' performance have gathered over a half million hits and continues to grow. Last year, Cortez joined Fortune and Shawn McLemore for their #1 radio anthem, "I Believe," which charted for over twenty (20) weeks.  Ever since, fans have demanded more music from Cortez and now his career is about to unfold with a highly anticipated CD, that will be one of the most talked about albums of 2012.
Over the last year, Cortez has been in the studio with artists as diverse as pop star John Legend and Lalah Hathaway. He's recorded 30 songs in preparation for his debut and is now cutting the CD down to the final dozen songs. "We had Zacardi record a number of different things to see what worked best with his awesome voice and to also make him appeal to a variety of gospel fans," says Douglas who just booked Cortez with Ricky Smiley, Superstar Comedian and national radio show host with over nine million listeners, on an upcoming eight (8) city comedy tour. "Zacardi is one of the best singers on this planet and when people hear this album, the world is going to fall in love with Zacardi and see why he's gospel's next big voice." For more information, please visit www.mrkerrydouglas.com.