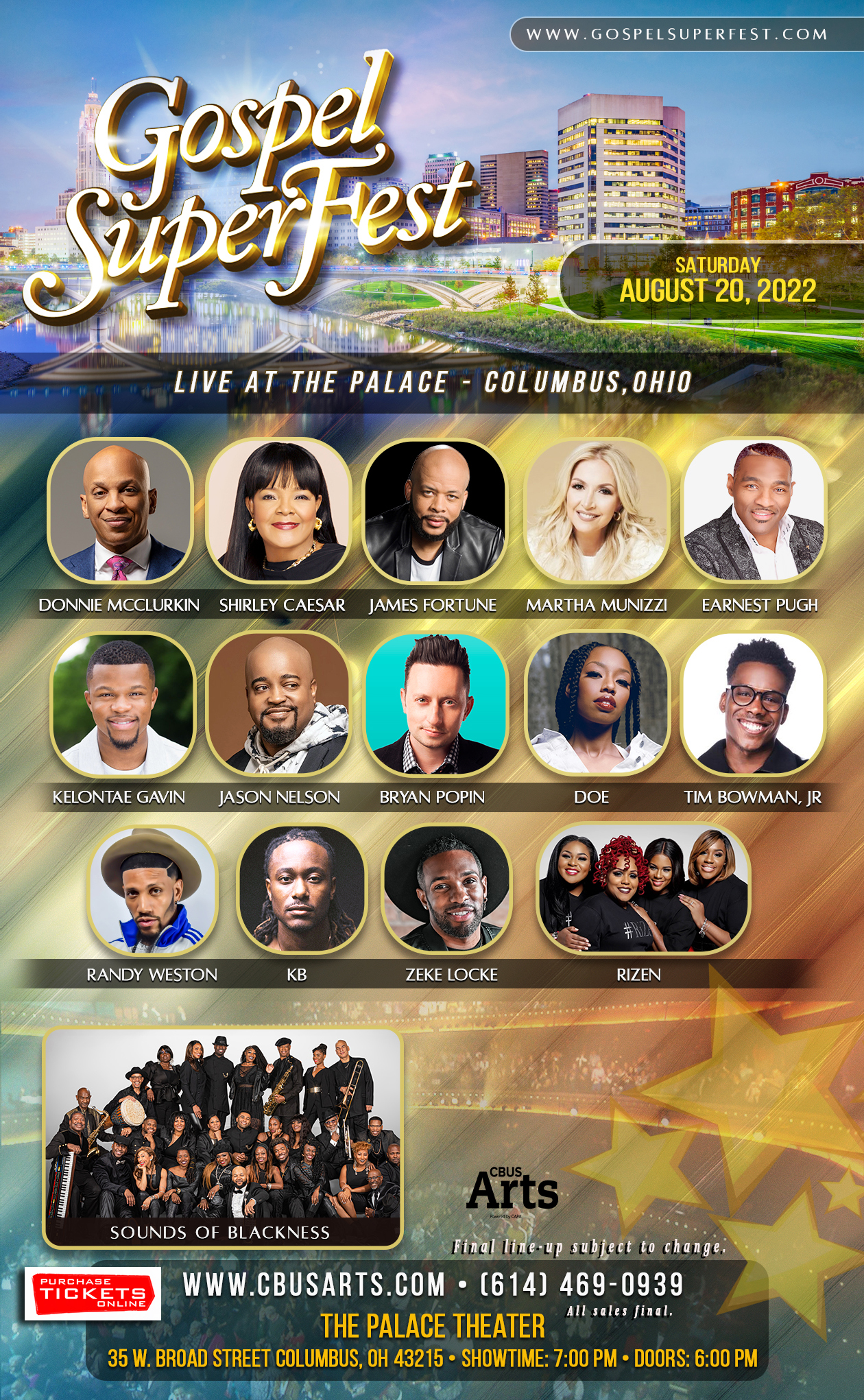 Unity Media Limited the production team and creators of Gospel Superfest TV officially announce their decision in selecting the beautiful city of Columbus, OH for the next Gospel Superfest television extravaganza. The internationally acclaimed and highly celebrated TV production will host its next live recording session at the historic Palace Theater in downtown, Columbus, OH. The recording session will take place on Saturday, August 20, 2022, at 7:00 PM.
The excitement and anticipation for GSF's first recording since the pandemic is building as the producers have begun selecting key "A-List" gospel and mainstream talent. This year's recording will yield the twenty-third consecutive TV season for the Gospel SuperFest TV brand which will be distributed in US domestic syndication and cable. "I am confident that this year's line-up will be one of our most exciting in years! There are a few surprise guests in the works as well. Our programs will continue to inspire and uplift the local attendees as  well as TV audiences both nationally and abroad." States the show's executive producer, Bobby Cartwright, Jr. Cartwright, and wife Renita A. Cartwright are also the founders and co-executive producers of the production.
Scheduled performers for Gospel Superfest "Live in Columbus" include, Donnie McClurkin, Pastor Shirley  Caesar, Sounds of Blackness, James Fortune, Martha Munizzi, Rizen, Earnest Pugh, Kelontae Gavin, Randy  Weston & Judah Band, Jason Nelson, Bryan Popin, Tim Bowman, Jr., Faith City Music, James Greer &  Company, DOE, KB and several others to be announced. Gospel Superfest "Live in Columbus" is presented by  The Cartwright Family Foundation.
Tickets for Gospel Superfest "Live in Columbus" will go on sale Thursday, April 28th @ 10:00 AM. Tickets can be purchased at www.cbusArts.com or by calling the Columbus Association for the Performing Arts (CAPA) box office at (614) 469-0939. More information is also available on the show's website at  www.gospelsuperfest.com.
About Gospel Superfest 
Gospel Superfest is one of the nation's top inspirational music-driven productions specifically designed and developed for national television distribution. Founded in 1998 by its founders and executive producers Bobby, Jr. & Renita Cartwright, the show has maintained a consistent presence in broadcast syndication for twenty-three consecutive TV seasons, reaching over 85% of US households with each telecast. (Source Nielsen  Media Research) Gospel Superfest' production company and distributor, Unity Media Limited, releases five one-hour specials annually in domestic syndication and cable. The firm has produced over 300 TV episodes of the Gospel Superfest and derivative titles over the last two decades.
The 2022 session "Live in Columbus" will be carried by major TV network affiliates including ABC, CBS, NBC,  FOX, CW, & MYTV stations throughout the US. Past and present cable affiliates include Byron Allen's "The Grio  Network," TV One, Magic Johnson's Aspire Network, Bounce, TBN, Daystar, ION, The Word Network and  others. Gospel Superfest TV programming reaches millions of TV viewers annually and is the most widely  distributed TV brand in black gospel music.
Gospel Superfest TV is known for its elaborate staging, trendsetting production, and Broadway styled  approach to gospel music television. GSF TV has become a "best in class" offering for TV audiences nationwide  and has also become a coveted stage opportunity for gospel & R&B performers down through the years.  Previous GSF live recordings have been held in New York City, Atlanta, GA, Chicago, IL, Memphis, TN, Jacksonville, FL, Cincinnati, OH, Baltimore, MD and most recently Dayton, OH's Schuster Performing Arts  Center. Since the program's debut in the year 2000, GSF has garnered the attention of blue-chip advertisers  and partners including Procter & Gamble, Allstate Insurance, Johnson & Johnson, Walmart Stores, GM, SC  Johnson, Kraft, African Pride Hair Care, McDonald's, Ford Motor Company, among others. The show will  continue to build on its rich legacy this summer as it records season twenty-three in Columbus, OH this coming  August. More info on Gospel Superfest is available at www.gospelsuperfest.com or by calling the program's  hotline at (800) 219-0337. Press inquiries should be sent via email at [email protected]