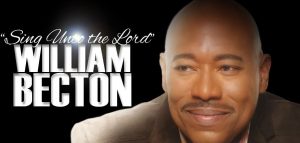 After a 13-year hiatus pastor, producer, songwriter, author, and two-time Stellar Award winning gospel artist, William Becton, returns with his new single "Sing Unto The Lord A New Song" from his forthcoming ministry-packed third installment 'Broken Trilogy.'
Hear the audio interview and find out where he's been, what he's up to, and what he has in store for us!
About William Becton:
Pastor, producer, songwriter, and gospel recording artist are a few facets of William Becton. He is most popularly known for his contributions to the gospel music industry, yet he has made waves in radio, and in the evangelical community. He creatively and consistently spreads the message of encouragement in all three venues, while fulfilling his mission to make disciples of the broken.
The Music
With over 20 years of experience in the gospel music industry, William Becton continues to influence and shape the gospel music sound. After a 13-year hiatus, this is being demonstrated with his current single, "Sing Unto The Lord"— an up-tempo, cross-cultural, energy charged masterpiece with a fresh new sound of praise while merging familiar "Old School" influences—from his forthcoming Broken Trilogy—his fifth praise and worship-focused project entitled, "Broken III," recorded in Nashville, TN, also known as the Music City.
The ministry-packed project features worship music from a multi-denominational and multi-cultural perspective that was honed while Pastor Becton was Minister of Music at a culturally diverse ministry in Laurel, MD. "This is by far my greatest body of work," says Pastor Becton.
In 1995, Becton made major noise when he released the gospel hit single, "Be Encouraged" from the CD entitled "Broken." The song took Pastor Becton from anonymity to notoriety almost overnight. Astonishing the gospel and R&B communities, the album debuted on the Billboard Gospel chart at #3 followed by the album propelling to #1, for over 11 weeks. It also hit the Billboard R&B singles chart at #59 for 21 weeks, allowing secular listeners to experience music with an underlying Christian message. The crossover success of "Be Encourage" set a new trend in gospel music and paved the way for upcoming gospel artists who also had crossover hits.
His group William Becton & Friends have received two Stellar Awards (including six Stellar Award nominations), two Gospel Music Workshop of America Excellence Awards, three Washington Area Music Awards, Dove Award nominations and a Gold Record. Four CD's and numerous recordings later, Pastor Becton has firmly established himself as one of gospel music's finest songwriter/producer machines.
The Ministry & Edification
Pastor William Becton was licensed as a local minister in 1998 in the A.M.E. Zion Church. He was ordained as Pastor in 2002. In 2005, he pioneered Kingdom Purpose Worship Center in Charlotte, NC. He has over 10 years of experience in the pastorate as a preacher and teacher of the Gospel.
His foundation and priceless experience at the world-renown Duke Ellington High school of Performing Arts in D.C., prepared him for his educational journey to study Music Education at the University of the District of Columbia, receive a Bachelor of Arts Degree in Theology (2010) and a Masters degree in Theology (2011) from Life Christian University (Tampa, FL). He is currently on schedule to receive a D.M. in in Theology, also via Life Christian University the summer of 2016.