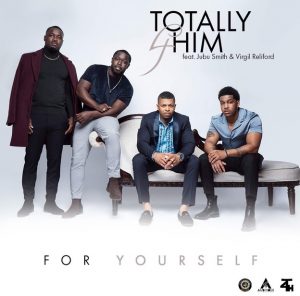 Totally 4 Him is a Gospel Quartet group of four dynamic and dedicated young men of God. These talented singers, songwriters, and musicians formed their group and bond in music in the early 2000s after singing in church. The group members are biological brothers Carlos Harvey and Michael "Turk" Harvey, Jr., and Dante Eady and Jesse Eady who are also biological brothers.  The four friends make up this soul-stirring, stylish and charismatic Georgia-based singing group Totally 4 Him (T4H).
Totally 4 Him began traveling and singing around the country and abroad with their grandfather Bishop William Hollis.  They now emerge as one of Gospel music's rising Quartet groups.
Their debut single "All We Need Is Love" featuring Grammy®, Stellar, and Dove award-winning Gospel legend Doug Williams and award-winning producer Stan Jones introduced the group as a new and fresh force in Gospel music.  Their heart and soul for the elevation of Quartet is presented in their performances and it is their charge to continue pushing the genre forward with new and innovative sounds.   T4H is doing so with a sophomore single called "For Yourself" featuring the multi-talented John "Jubu" Smith of the famed group The Soul Seekers and Virgil Reliford of The Pilgrim Strangers.
"We want For Yourself to motivate and stir the hearts of people to stand for what they believe in and not to fall into the world of what others want you to do. But most importantly, you must be worthy to stand before Christ on that day," says Carlos Harvey.
He continues, "Our collaboration with Jubu Smith was created with soul music in mind because of his creations with Tony! Toni! Toné!, Frankie Beverly and Maze, and others. He's a soul music genius.  Then, having Virgil Reliford standing alongside us is amazing because he is a monster of a hooper!"
"For Yourself" was written by T4H, Billy Kemp, Elijah Baker, and Jubu Smith with Gerald Haddon making a contirbution to background vocals.   The single is available now on all digital platforms and is the precursor to T4H's forthcoming album set to release this summer via Central South Distribution.