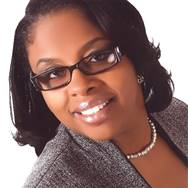 Lynntesha Roberts has been singing all of her life.  After her church debut on Easter Sunday morning singing "Here Comes Peter Cottontail" (at the tender age of three), everyone in sight knew she had something special. So it was no surprise when years later, the South Carolina native became a recording artist. Three albums in, the Songstress of the South and the Can't Stop Music Group Recording Artist has been enjoying the success of her latest release, Stay In Your Lane, Stop Swervin'.  The single and title track, "Stay In Your Lane, Stop Swervin'", has been breaking speed limits with Gospel music fans due to its memorable hook and in-your-face lyrics. Flaunting the down-home Gospel sound with a flare of urban soul, it's Lynntesha's most popular song to date and is hitting radio hard, climbing up the BDS and Mediabase Gospel Charts.
The catchy song came to Lynntesha when she heard people commenting on what another person should do. "While I was in the US Navy, our chaplain was replaced by another chaplain.  Everyone was trying to tell the new chaplain what to do, explaining how the old chaplain did things," says Lynntesha.  "As everyone was talking, I whispered to the person next to me, 'I wish people would just stay in their lane and stop swervin''.  It was at that moment that the melody came to me. The premise of the song is that everyone can't do everything. Do what you do well and let others do what they do well. It also reminds us that the church would be more inviting to non-believers and successful in working together if we stayed in our respective lanes."
Stay In Your Lane, Stop Swervin', Lynntesha's sophomore release, contains a variety of musical styles with most songs penned by the artist herself.  A prolific songwriter, Lynntesha Roberts wrote "I'm Not Tired Yet" and "Jesus Is The Best Thing", two tracks on the CD.  A simple worship track, "I Love You Lord", is also included on the recording as is a song Lynntesha wrote with her dad called "Stand By Me".  As a tribute to the Lumzy Sisters, she remakes two of their songs, "Precious" and "Down In The Valley".  The project is available on Lynntesha's website, www.Lynntesha.com.
Her home church, Smithville AME Zion Church in Cheraw, South Carolina, was the training ground for Lynntesha's music career. In 1996, she was on active military duty in Atlanta, GA, when she formed the group D'Vyne Faith. In 2004, she was recalled to active duty to serve in the Middle East to serve during Operation Iraqi/Enduring Freedom. In what initially looked like a setback for her ministry, the deployment was actually a blessing in disguise. It gave her an opportunity to take her ministry worldwide and she jumped at every opportunity that was presented to her to minister overseas. She joined the base Gospel choir and led a newly-developed praise and worship team there.  The experience strengthened her faith and she resolved to walk in her calling both musically and through the preached word.
Since that time, she's continued to minister in song. Because of her propensity to embrace traditional Gospel music, some have called this anointed powerhouse singer a new age mixture of Vickie Winans and Dottie Peoples.  She has been blessed to grace the stage with artists such as William Murphy, Doc McKenzie and the Gospel Highlights, Dottie Peoples, Monica Lisa Stevenson, George Dean and the Gospel Four, The Canton Spirituals and the late Slim and the Supreme Angels.  She's ministered at the Dorinda Clark Cole Singers and Musicians Conference, the Rhythm of Gospel Awards, and The Prayze Factor Awards and she's been seen on The Reggie Gay Gospel Show and WATC-TV's Atlanta Live.  For more information on Lynntesha Roberts, log on to www.Lynntesha.com.  Connect with her onFacebook.com/Lynntesha and Twitter (@lynntesha).