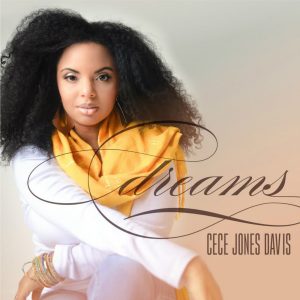 Everyone has a dream. But few think about the dreams that God has in His heart for us.  That theme is the backdrop for Gospel Artist Cece Jones-Davis' track, "Dreams".  The beautifully-penned ballad showcases not only Jones-Davis' sweet vocals, but her desire to reignite dreams that have been left dormant.  "Dreams" is the first single released from the worship leader's forthcoming project scheduled to drop later in 2016.  The song is currently available on 
iTunes
 and other digital music outlets.
"At the time that God gave me 'Dreams', I was working a dead end job, knowing that God had more for me," recalls Cece.  "One night I was hanging out with a friend and he pulled out his keyboard.  Melodies came and I pulled out my Bible, too.  I turned to the 15th chapter of Genesis where God tells Moses the plans He has for him and reveals to him that his descendants will be as plenteous as the stars.  That story is so powerful to me.  Through this song, I want to remind believers that God still has a dreams for them.  You must believe that what God spoke will actually happen," says Cece.
The worship leader and graduate of Yale University School of Divinity, Yale Institute of Sacred Music, Worship and the Arts, Princeton's Black Theology Leadership Institute and Howard University, Cece is in the planning stages of the "Dream" Tour, a nationwide tour that will empower and inspire women and girls to live to their fullest potential.  "God has beautiful dreams for us," says Cece.  "His dreams for us are much bigger than ours.  The dreams God has for me are too large for my heart to contain.  We must ask God to expand our thinking so that we can grab hold of the dream that is in His heart," she says.  Passionate about living her dreams, Cece is also passionate about helping others live theirs as well.  A preacher and a social advocate, recently she was on staff at the White House.
Through her own organization, Sing For Change, Inc., she enables those affected by HIV/AIDS.  Jones-Davis is helping to stem the tide of the stigmatized disease through faith, advocacy and music.  She's even traveled to Uganda mobilizing faith-based musicians and community leaders, all to help bring awareness, testing and prevention of HIV/AIDS.  She is also the founder of the Women & Girls Working Group, an organization that raises awareness regarding issues impacting female reproductive health globally.  For poor communities, basic necessities for women and girls – which are commonplace in the United States – are hard to come by in other countries.  Women & Girls Working Group helps to provide sanitary wear and hygienic materials and facilities for females of all ages.
A blogger for sites like the Huffington Post and 
Essence.com
, Cece wants to share her gifts with the world.  Music is just one vehicle she uses.  She says, "God has called me to be a Levite within the four walls of the church and a social justice advocate outside of the church.  The Lord has helped me to realize that my voice has power.  Every worship leader should understand that God gave them a voice to vocalize what is true, what is honest, what is holy and what is right.  Music is an expression of that voice, but our voices are bigger than a song, a melody.  God is holding me responsible for speaking and singing of things that are important to Him."
Portions of the proceeds for "Dreams" will be donated to the children of Tonisha Bell-Alton, a sorority sister of Cece Jones-Davis, who passed away from a rare cancer, Synovial Sarcoma, in 2014. For more information about Cece Jones-Davis, log on to 
www.cecejonesdavis.com
.  Connect with her on 
Facebook
and Twitter (
@cecejonesdavis
).