During the 33rd Annual Stellar Awards Weekend, eOne hosted a Breakfast for their Stellar Nominees at the SLS Hotel. Gina Miller, VP and General Manager of eOne took time out to talk to us about a few things. One thing in particular "The Key Factors to being Relevant in Gospel Music Today! Check out the Interview below.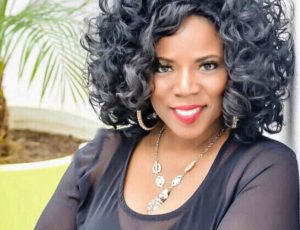 Gina Waters Miller has been passionate about writing and music for as long as she can remember. "Poetry and music was an escape turned form of communication for me. Instead of running away and getting lost in words and music, I began running with them and found my strength and voice. My words said what my mind thought and music expressed what my heart felt!" Not surprising being born into a family of classically trained and Church musicians. Gina Millergrew up around music all of her life. Her maternal grandmother played piano with a Scott Joplin, ragtime feel and taught all 10 of her children to play piano. Gina's Mississippi born, paternal grandmother played the piano with a bluesy style, straight from the Delta. Combine that with a mother who was the Church pianist for many years at Metropolitan Baptist Church in Memphis, TN, as well as career school teacher.  From  all of that, the stage was set where loving music, being a classically trained musician herself, singing and playing for churches of all denominations (Baptist, Cumberland Presbyterian, Christian, AME, CME, and United Methodist), having a Bachelor's degree in music, being licensed to teach music (K-12) in TN and ultimately having a celebrated career in the Music Industry was inevitable.
Meet Gina Miller, music industry veteran, who has been responsible during her tenure at eOne, for the campaigns of artists that have included: Shirley Caesar, Bishop Paul S. Morton, JJ Hairston, Erica Campbell, Karen Clark Sheard, Dorinda Clark Cole, Donald Lawrence, Michelle Williams, Lalah Hathaway, Tweet, Hezekiah Walker and notable others.
After a non-traditional internship at Light Records in Nashville, Gina accepted a position as Radio & Retail Promotions Coordinator in 2004, then moved to Director of Sales & Label Relations, followed by Marketing manager. She was named VP of National Promotions & Marketing for Light Records, then moved to VP Promotions & Label Relations, after being acquired by Entertainment One. Gina approaches almost 14 years with the company, and more than 6 years as a VP.
Miller, currently serves as Vice President and General Manager of Entertainment One, Nashville…for Miller this role is a history making moment, not just related to the Gospel & Christian Music Genres, but in Urban music and all genres and most entities that comprise the recorded music, entertainment and media industries…Her position is one that only a handful number of women, not just currently, but historically, being African American or otherwise can boast that this opportunity has been afforded.
Day to Day she oversees Operations, which includes the management of every aspect from budgets to the development of initiatives, plans, new business, strategy and partnerships. In her role, Gina also recruits and signs talent, oversees and manages staff, artist relationships, music, products, radio, sales, production, publicity and the overall division's bottom line.
Actively, the eOne roster includes: William McDowell, James Fortune & FIYA, Deitrick Haddon, Ricky Dillard, Jonathan McReynolds, Todd Dulaney, Lisa Page Brooks and many more.
Gina is a member of the National Academy of Recording Arts and Sciences (NARAS), the Gospel Music Association (GMA), the Stellar Awards Gospel Music Academy (SAGMA) and Delta Sigma Theta Sorority, Incorporated. As well as the National Association of Black Journalists (NABJ), the National Black MBA Association (NBMBAA), the National Association of Professional Women (NAPW), and the National Association for the Advancement of Colored People (NAACP). Miller, leads the Nashville Network of the National Association of Black Female Executives in Media & Entertainment™ (NABFEME) and is the Founder of Gina Miller Enterprises, which is home to Gina Miller Presents.
Gina is a supporter of "music in schools" and also contributes often as a writer/blogger. Gina believes in service and is committed to reaching back, pulling up and pushing forward. A natural teacher, she pours into several groups that includes mentoring young women, young business women, musicians and artists in the music industry. She works tirelessly pouring into and offering workshops to those who serve in Church ministry. She serves on the board for Atlanta based, Saving Our Daughters, and the Memphis based Harmonic South.
Gina not only uses her skill set in the entertainment industry as an executive, but she empowers those and gives from her place in the world, as an entrepreneur, and educator. The Mother of two millennial sons and as a mentor to many…Miller says, "besides my work in music, those are the most fulfilling "jobs" in my world along with motivating and ministry.
Gina was married for 12 years to an 8 year former NFL Veteran, was born and proudly raised in Memphis, TN, and has happily been a resident of Nashville for the past 22 years.