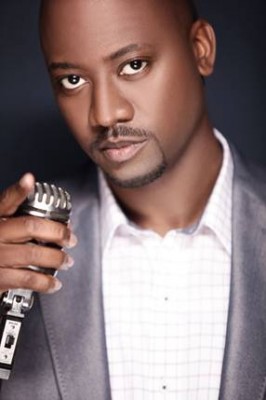 Praise and worship lovers have been enjoying the ministry of CD Porter.  Known for his song, "With One Sound", CD Porter has the industry abuzz.  The Stafford, VA, resident is revered for his cross-cultural sound, taking his gospel and CCM influences and creating a worship style all his own.  Recently dropping his sophomore release entitled Declaration, Porter has also been gaining fans with his most recent single, "You Are My All".  Now Porter is hitting the road to promote the brand new release.
He will be traveling to Ohio to tape The WORD Network.  The network's Fresh Fire program will host CD Porter on Friday, July 13th.  The taping, scheduled to be aired at a later date, will showcase the talents of the gifted worship leader.  The following week, the artist will be traveling to Chesapeake, VA, to take part in the 3rd Annual Independent Gospel Artists Alliance Conference.
Fans in the DMV will be able to meet the artist live and in person at his upcoming CD signing.  Porter will be signing copies of Declaration and meeting his ministry supporters on Saturday, September 22nd from 2 – 4PM EST at John 3:16 Bookstore. Copies of the new project will be available for purchase.  The CD is currently available on Amazon.com and iTunes.  In addition, the worshipper is readying for an appearance on the Trinity Broadcast Network in late September.  More information on his appearance is forthcoming.
CD felt the call to music ministry at the age of twelve.  Since that time, Porter has honed his craft, developing his talents and gifts to edify the body of Christ.  An anointed singer, songwriter, musician, and producer, Porter serves as Director of Worship Ministry at the New Life Anointed Ministries International in Woodbridge, VA.  He dropped his debut record, Work In Progress, in 2007.  His sophomore record, Declaration, dropped May 22nd.
A true worshiper, CD Porter says worship is crucial to lovers of Christ.  "Worship is essential to the believer," shares CD.  "It's not only our time to commune with God and hear the heart of God, but it's our chance to reveal our heart to Him.  It's our time to come to Him, purely submitted, bowing and bending our will to His."  More information about CD Porter can be found at www.CDPorterMusic.com.
CD Porter's Summer 2012 Appearance/Performance Itinerary:
July 13th
Fresh Fire Live Taping With Hosts Lexi and Michael McDaniel
Cleveland Heights, OH
July 14th @ 6pm
Richard Davis & Spirit in Truth CD Release Concert
Fredericksburg, VA
July 19th
Independent Gospel Artists Alliance Showcase
Chesapeake, VA
July 20th
Divine Gift Showcase 2012
2000 W. Mercury Blvd
Hampton, VA 23666
July 21st
Independent Gospel Artist Alliance Conference Showcase
Chesapeake, VA
July 28th
Prayzefest Showcase
@ Rhythm Of Gospel Award Celebration
Omni Hotel
Jacksonville, FL
August 4th @ 6pm
Youth for Christ 2012 Youth Explosion
Temple of Deliverance
Mineral, VA
September 8th @ 5pm
Donald Simms' The EP Release Movement
United Christian Fellowship International
Woodbridge, VA
September 15th
Vision Community Church 5th Year Gala Concert
Fredericksburg, VA
September 22nd
John 3:16 Bookstore CD Signing
Lanham, MD