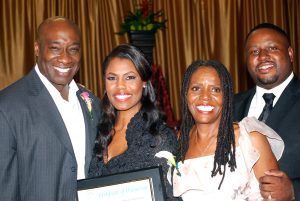 Yesterday, February 18th, 2012 Omarosa O. Manigault "Former Reality TV Bad Girl" was ordained at the historical Weller Street MissionaryBaptist Church, Los Angeles, CA. Rev. Dr. H.B. Hicks, pastor, Metropolitan Baptist Church, Washington, DC, preached the ordination sermon. Rev. K.W. Tulloss offered the charge to Omarosa.
Omarosa went before the ordination committee, made up of prestigious ministers from around the country, lead by the renowned Dr. H. Beecher Hicks, Jr.
Omarosa demonstrated that she was both theologically prepared and scripturally rooted. The committee unanimously voted for her to be approved for ordination. Rev. Manigault now has the authorization to serve and perform all standard Christian ceremonies including marriages, baptisms and funerals.
"This is the day that the Lord has made, I truly rejoice and am glad it is! This was one of the most profound days of my life and my ministry. How amazing I feel to serve God, I made a very personal decision to dedicate my life to the service of the kingdom of God. I intend to continue my seminary studies and to fully discover what God's plan is for my life and ministry." says Rev. Omarosa Manigault.
Omarosa grew up in the church in her hometown of Youngstown, Ohio and dedicates her life to her church and her community in the Los Angeles area. Omarosa is currently enrolled in the doctorate of Ministry program at Payne Theological Seminary in Ohio. She received her undergraduate degree from Central State University, Ohio and a Masters Degree from Howard University, DC.
Rev. Omarosa Manigault currently serves as Assistant Pastor at Weller Street MissionaryBaptist Church in Los Angeles, CA.