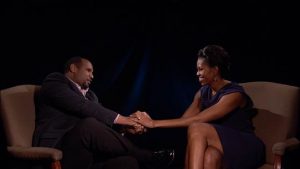 The First Lady of the United States of AmericaMichelle Obama will talk faith, fitness, family and the power of prayer on a very special episode of BET's LIFT EVERY VOICE this Sunday, March 4, 2012 at 10 a.m.* While on tour to celebrate the second anniversary of "Let's Move!," First Lady Michelle Obama held a rally to shine a light on the special role faith-based and community organizations can play in support of a healthy lifestyle. BET's LIFT EVERY VOICE was on hand for the "Let's Move! Faith and Communities" event and host Cory Condrey got an exclusive sit-down interview with the First Lady to discuss why she chose to tackle childhood obesity and other causes near and dear to her heart as well as the importance of faith and family in her life. This special episode of LIFT EVERY VOICE will feature an interview with the First Lady, speeches and special moments from the event and a powerful performance by Yolanda Adams. LIFT EVERY VOICE "Let's Move!" special episode premieresSunday, March 4, 2012 at 10 a.m.* with an encore presentation at 11 a.m.* For information on this special, go to BET.com/LiftEveryVoice.
*All times are ET/PT.
About Lift Every Voice
The all new LIFT EVERY VOICE is a half-hour program featuring insightful testimonies from some of mainstream and gospel's biggest and brightest stars. The show focuses on each guest's journey with the Lord in their everyday life. The show also provides an opportunity for our guests to advise others who are living similar experiences on how they can use Faith to overcome adversities. Previous guests include: Steve Harvey, Eric Benet, Marvin Sapp, Kim Burrell, Kirk Franklin, Queen Latifah, Donnie McClurkin, LL Cool J, Michael Vick, Rick Ross, Boris Kodjoe, Selita Ebanks, Phadrea Parks, and Terri Cruz just to name a few. The show also features the inspirational "Video of the Week" as well as our "Church Announcements" segment delivered by BET correspondent Torrence Glenn. For more information, go to www.BET.com/LiftEveryVoice.
About BET Networks
BET Networks, a subsidiary of Viacom Inc. (NASDAQ: VIA, VIAB), is the nation's leading provider of quality entertainment, music, news and public affairs television programming for the African-American audience. The primary BET channel reaches more than 90 million households and can be seen in the United States, Canada, the Caribbean, the United Kingdom and sub-Saharan Africa. BET is the dominant African-American consumer brand with a diverse group of business extensions: BET.com, a leading Internet destination for Black entertainment, music, culture, and news; CENTRIC, a 24-hour entertainment network targeting the 25- to 54-year-old African-American audience; BET Digital Networks – BET Gospel and BET Hip Hop, attractive alternatives for cutting-edge entertainment tastes; BET Home Entertainment, a collection of BET-branded offerings for the home environment including DVDs and video-on-demand; BET Event Productions, a full-scale event management and production company with festivals and live events spanning the globe; BET Mobile, which provides ringtones, games and video content for wireless devices; and BET International, which operates BET in the United Kingdom and oversees the extension of BET network programming for global distribution.