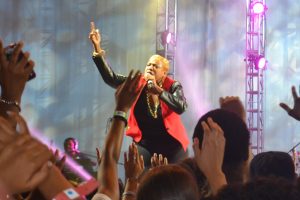 The MYE Code Concert was an amazing addition to T.D. Jakes' MegaFest 2013 in Dallas. The show was a star-studded event that featured some of the most talented artists in the new generation of Gospel Music. Hosted by Grammy award-winning Songstress Michelle Williams and Stellar award-winning Singer Isaac Carree, the show included performances by B. Reith, Mali Music, Kierra Sheard and Tye Tribbett, with special appearances from actress Meagan Good and actor Jacob Latimore. The MYE Code Concert was a special show dedicated to our youth, as the main message conveyed by each artist was for the attendees to keep their faith in God and not fall short to worldy views, opinions and standards.
Christian Hip Hop Rapper and Singer B. Reith began the show with a high-energy performance of a few of his fan-favorite songs from his latest release, "How The Story Ends". Although some audience members may have not heard of the singer before this concert, host Isaac Carree asked if they would now purchase his music, to which they all screamed "Yes!" Mali Music took the stage next with powerful performances of his uplifting, powerful songs "Mali Is", "Ready Aim" and more. He also announced his upcoming album will soon be released. After Mali's set, actress Meagan Good came out to deliver a few words of wisdom to encourage the crowd, followed by Jacob Latimore delivering a trailer for his upcoming movie with Jennifer Hudson, "Black Natavity".
Gospel's sweetheart heart Kierra Sheard was up next, ministering to the youth with her songs, "Trumpets Blow", "Free" and even a cover of The Clarks Sisters' "You Brought The Sunshine". Kierra shocked the crowd when she performed a remake of Rapper Kendrick Lamar's "Don't Kill My Vibe", and another new song from her upcoming album in which the singer shows off her rapping chops. Closing the show was Tye Tribbett performing songs from his current #1 album, "Greater Than". Tye moved the crowd in a way that only he can, especially when he performed his fast paced cut, "He Turned It". The show was an overall blessing as the youth in attendance were on their feet the entire time, ready to receive the message these talented and anointed artists delivered.
Check out pictures from The MYE Code Concert below: