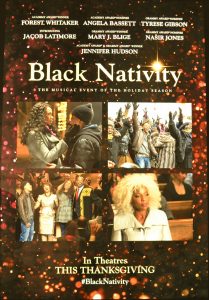 During Bishop T.D. Jakes' MegaFest 2013 a VIP Reception was held for an upcoming movie, "Black Nativity", which he produced. The movie was directed by Kasi Lemmons features some of the top names in Black Hollywood, including Forest Whitaker, Angela Bassett, Jennifer Hudson, Tyrese Gibson, Mary J. Blige, Jacob Latimore and many more.
The reception was held on the 33rd floor of the W Hotel in downtown Dallas, Tx. Many artists, actors and supporters of the event attended the reception and graced the red carpet before entering the venue. Check out the pictures below to see some of the superstars on their way in, including Bishop T.D. Jakes, Mikki Taylor, Jacob Latimore, Boris Kudjoe, Mary Mary, Brandy, Lyn Whitfield, Donald Lawrence, Ja Rule, Michelle Williams and a host of others.
During the VIP Reception Bishop Jakes gave a private screening of a few scenes from the movie, much to the attendees' delight. The night was full of networking, free food and even prize giveaway, in which one person won a free trip to Europe.
Black Nativity, which will be in theaters November 27, 2013, is based on a street-wise teen from Baltimore, Jacob Latimore, who has been raised by a single mother, Jennifer Hudson, traveling to New York City to spend the Christmas holiday with his estranged relatives, Forest Whitaker and Angela Bassett, where he embarks on a surprising and inspirational journey.