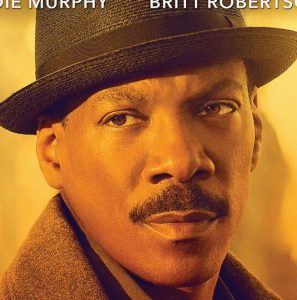 Academy Award® nominee Eddie Murphy (Best Supporting Actor, Dreamgirls, 2006) and Britt Robertson (Tomorrowland) star in the heart-warming film Mr. Church, arriving on Digital HD and On Demand October 21 and on Blu-ray™ (plus Digital HD) and DVD (plus Digital) October 25 from Codeblack Films and Lionsgate.
Currently in theaters, the film was produced by Cinelou Films and Envision Media Arts. Directed by Academy Award® nominee Bruce Beresford (Director, Tender Mercies, 1983) and written by Susan McMartin (TV's "Mom"), Mr. Church challenges the notions of family and unconditional love. The "touching account of an unlikely friendship marked by love and respect" (The Hollywood Reporter), premiered at the Tribeca Film Festival and also stars Xavier Samuel (Love & Friendship), Lucy Fry (TV's "11.22.63"), and Natascha McElhone (TV's "Californication").
Mr. Church tells the story of a unique friendship that develops when a little girl and her dying mother retain the services of a talented cook – Henry Joseph Church. What begins as a six-month arrangement instead spans fifteen years, and creates a family bond that lasts forever.
The Mr. Church home entertainment release bonus material includes interviews with the cast, a "Food on Film" featurette, and a look at the true story the film is based on. Mr. Church will be available on Blu-ray (plus Digital HD) and DVD (plus Digital).
ABOUT LIONSGATE
Lionsgate is a premier next generation global content leader with a diversified presence in motion picture production and distribution, television programming and syndication, home entertainment, international distribution and sales, branded channel platforms, interactive ventures and games, and location-based entertainment.  The Company has nearly 80 television shows on 40 different networks spanning its primetime production, distribution and syndication businesses. These include the ground-breaking hit series Orange is the New Black, the fan favorite series Nashville, the syndication success The Wendy WilliamsShow, the hit drama series The Royals, the Golden Globe-nominated dramedy Casual and the breakout success Greenleaf.
The Company's feature film business spans eight labels and includes the blockbuster Hunger Gamesfranchise, the Now You See Me and John Wick series, Nerve, CBS Films/Lionsgate's Hell or High Water, Sicario, Roadside Attractions' Love & Mercy and Mr. Holmes, Codeblack Films' Addicted and breakout concert film Kevin Hart: Let Me Explain and Pantelion Films' Instructions Not Included, the highest-grossing Spanish-language film ever released in the U.S.
Lionsgate's home entertainment business is an industry leader in box office-to-DVD and box office-to-VOD revenue conversion rates. Lionsgate handles a prestigious and prolific library of approximately 16,000 motion picture and television titles that is an important source of recurring revenue and serves as a foundation for the growth of the Company's core businesses. The Lionsgate and Summit brands remain synonymous with original, daring, quality entertainment in markets around the world. www.lionsgate.com