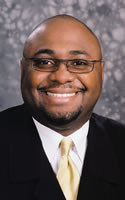 The second in a series of meetings presented by Texas Governor Greg Abbott and the Honorable Ron Price, "Breaking Through the Soundproof Glass" will take place Aug. 8, 2018, at 2:00 p.m. at the New Days Community Church in Tyler, Texas.  Governor Abbott has long championed the improvement of all parishioners and their communities. Ron Price states, "It's time we focus on things that unite us; the greatness of humanity cannot be overlooked." The first round-table meeting, which took place in Mesquite, Texas on May 10, was a highly successful event that included the mayor of Mesquite coupled with 41 area pastors and the Dallas County District Attorney.
Price says, "First I'm an American, second I'm a Texan, and third I'm an African American."  Governor Abbott will help moderate the meeting in his desire to meet with local African American pastors. The event will address a wide range of topics; and, will specifically focus on the needs of the parishioners and their ideas for the future.
Host Pastor Reginald Garrett says, "I'm honored to host this historic meeting for Governor Greg Abbott and the Honorable Ron Price as they send the message that we are all God's children, regardless of race or political party." Over 200 children from the Journeys of the Heart After School Program will attend the event and some will lead the Pledge of Allegiance to the Flag.
Joining Governor Abbott and Ron Price will be a host of East Texas leaders including Mayor Hines of Tyler, Tyler City Manager Edward Broussard, Tyler City Councilman McGee, Tyler ISD Superintendent Dr. Crawford, Longview ISD Superintendent Dr. Wilcox, Longview ISD School Board Member Ted Beard, Texarkana School Board Member James Keaton and many East Texas African American Pastors and leaders.