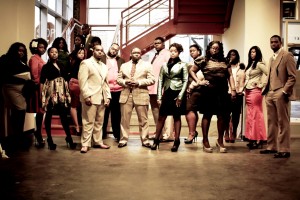 Although, it was announced a few weeks ago that Gospel's Leading Man, Earnest Pugh, was signing fellow Memphian Vincent Tharpe and his group, Kenosis, to EPM Music Group; it's now official. Last night they met up at Pursuit of God Church in Memphis where Kenosis was performing and they traded signatures on a new contract.
The dynamic gospel ensemble will release its new CD, "Live in Memphis", on October 30, 2012 and the radio single, "Thank You, Lord" is beginning to make noise on gospel airwaves. "Vincent and his group recently teamed up with me at the Gospel Superfest TV taping where we shared the stage to sing my song, `I Need Your Glory'," Pugh says of his inspiration to sign the group.
"They did what they do and `brought it' in a major way and I wanted to give them this opportunity to `bring it' on a national level. I'm very optimistic about their ministry because they manage to attract young adults but they are also seasoned enough to capture the attention of the mature church crowd as well". For more information on Vincent Tharpe & Kenosis and other EPM Music Group acts, visit www.epmmusicgroup.com.