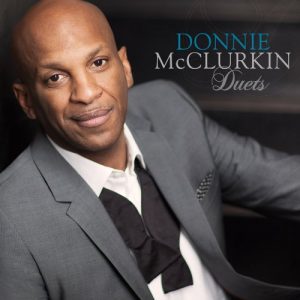 The highly anticipated album of Grammy winner Donnie McClurkin was finally released last week after a five-year wait.  Since then, the singer has been on a non-stop promotional tour to chat about the well received, Duets released on RCA Inspirations.  Prior to hitting the road McClurkin hosted the 3rd Annual Gospel Goes to Hollywood Luncheon in Los Angeles, celebrating untold stories of faith. Honorees this year included: Lou Gossett, Jr.; David and Tamala Mann; Bentley Kyle Evans and Matt Sigloch.  On Saturday, March 15 McClurkin and Tye Tribbett will perform this year's gospel anthem, "We Are Victorious" as part of BET's Celebration of Gospel taping at the Orpheum Theatre.  The 14 annual presentation of Celebration of Gospel will air on  Sunday, April 6 at 8:00 p.m. ET/PT on the network.
From Los Angeles the first stop was Houston, Texas where McClurkin stopped by Yolanda Adams Morning Show and introduced new songs during concert at filled- to-capacity crowd   at Windsor Village United Methodist Church.  McClurkin then made his rounds in New York at Sirius Radio Network with an in studio interview and performance.
The social media buff had a blast interacting with over 4,000 followers during a Spreecast live chat and in-studio interview at WLIB hosted by Hezekiah Walker.  The day wrapped on a high note at Greater Allen Cathedral where McClurkin sang to a full-house.  Street week in Atlanta ended with the singer hitting all the local radio stations: WVEE, WAOK-AM, WALR, Radio One's Rickey Smiley and Darlene McCoy.  McClurkin's  first in-store signing since 2009 release of We Are One caused a traffic jam inside WalMart's  Lithonia, Georgia location.
The 10-track original offering, features the talents of gospel greats: Tye Tribbett, Dorinda Clark-Cole, John P. Kee, Marvin Sapp, Israel Houghton, Erica Campbell, Tina Campbell, Tramaine Hawkins, Preashea Hilliard and Justin Savage.   Duets was released on Monday, March 3 and is available now on iTunes,Amazon.com and Wal-Mart.