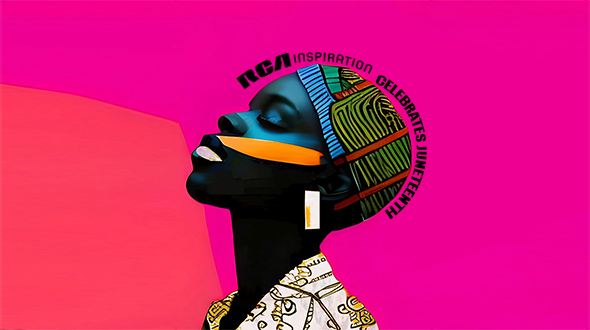 RCA Inspiration celebrated the Juneteenth holiday with a remarkable lineup of new music releases and a special performance. In recognition of the Juneteenth National Independence Day, multiple artists paid homage to the rich cultural heritage of the holiday, which commemorates African American emancipation, with inspiring music.
On June 19th, renowned GRAMMY?-winning artist, composer and producer Donald Lawrence released a captivating visualizer for his latest single in tribute to Juneteenth. Watch the new "Fix Me Jesus" visualizer on YouTube: https://youtu.be/1z1DFCI1KuY. The compelling new song "Fix Me Jesus" embodies the strength and unwavering faith needed to overcome obstacles, aligning with the spirit of the occasion. This new recording of one of the classic songs from gospel icon Twinkie Clark, is the second release from Donald Lawrence's upcoming album, Donald Lawrence Presents Power: A Tribute to Twinkie Clark. The new rendition features the talents of Sir The Baptist, Jason Max Ferdinand, and his choral ensemble, transporting listeners in a powerful calling on faith in Jesus, whose power is endless in handling all things. Pre-order Donald Lawrence's latest album before its September 15th release and get his first two singles now: https://DonaldLawrence.lnk.to/PowerPR.
Melvin Crispell, III captivated the audience at SOB's in New York City on June 19th, celebrating the Juneteenth holiday as well as his own birthday that day. Melvin performed live as part of the SOB's Soul Sessions "A Juneteenth Celebration," an electrifying night celebrating contemporary gospel music. The show featured performances by Melvin Crispell, III, as well as SEMAJE, Jason Hendrickson, and Anisa Fowler and honored NYC influential gospel figures Hezekiah Walker, Melonie Daniels, and Meta Washington. Melvin's latest album, No Failure, was released on June 16th, marking his sophomore album. Listen to Melvin's album here: https://MelvinCrispell.lnk.to/NoFailurePR. 
With June recognized as Black Music Month, RCA Inspiration invites you to explore the specially curated Black Music Month playlist by Essential Worship. Immerse yourself in the diverse sounds of gospel, worship, hip-hop and more, featuring Kirk Franklin, Donald Lawrence, Koryn Hawthorne, Kierra Sheard, DOE, KB, Mali Music among others on the 62-track playlist: https://open.spotify.com/playlist/0bdPhDj1u9d95kHZcoHveP?si=d3d595ae65af4034&pt=dc9aac8ad30e76afe4b0929103c89727.
Join RCA Inspiration in celebrating Black Music Month as we honor the incredible history and cultural legacy of Black music, and its continued powerful influence and bond among fans around the world.