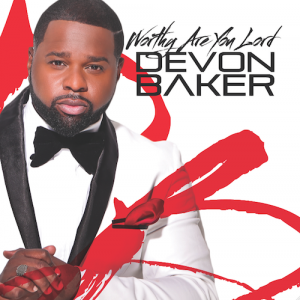 Gospel's best kept secret DEVON BAKER is set to take the genre by storm via his debut single 'Worthy Are You Lord', the jubilant lead offering from his introductory EP due in May 2014.
Poetic praise in motion, the song's stirring lyrics are accented by an energetic arrangement and Baker's unmistakable, commanding tenor. An instrument he has groomed since the age of 3, the Dallas-born singer has seen his gifts shared as a background singer for the likes of Bishop T.D. Jakes and Stellar Award winning gospel giants Bishop Paul Morton, Israel Houghton, and Darwin Hobbs, who recently spoke glowingly of the young singer.
"I'm so proud to offer my humble opinion about the music of Devon Baker…Wow! It's INCREDIBLE!!! DO YOURSELF A FAVOR AND GET IT!!!" – Darwin Hobbs, Stellar Award-winning Worship Artist
Hobbs' sentiment is one shared by many of Baker's contemporaries, including singer/songwriter Darius Paulk who penned the 2011 gospel anthem 'Nobody Greater' (Vashawn Mitchell).
"Devon Baker echoes the hearts cry of every worshipper in the earth, Worthy are you lord is a message that rings true in every nation and creed that names the name of Christ, a beautifully written song that would be a great addition to your music library." – Darius Paulk, Singer/Songwriter
See who else is talking about Devon Baker:
"'Worthy Are You Lord' [is the] 2014 worship anthem.This song of celebration is poised to be one of gospel's "Most favorite" songs of the year. Devon Baker has tastefully given a powerful performance, set to engage its listeners to take a journey into the presence of the Lord."  – Keshia McFarland, Recording Artist
"The song is catchy, the vocals are clean, and when it's over you feel like praising God. I ABSOLUTELY LOVE IT"!!  -Tasha Paige-Lockhart, BET's 'Sunday Best' Season 6 Winner/Recording Artist
Devon Baker is a burgeoning Atlanta gospel artist whose remarkable talent sees him poised to be one of the genre's next top stars. With his triumphant debut single 'Worthy Are You Lord' being heralded by his contemporaries and critics as one of the year's "must-hear" songs, Baker has already begun torching a legacy all his own in the gospel industry.
A journey started as a background vocalist for the likes of Stellar Award winners Bishop Paul S. Morton, Israel Houghton, Darwin Hobbs, Micah Stampley, and more, Devon is now prepared to set out – via his May 2014-due EP – to forge his own musical path.