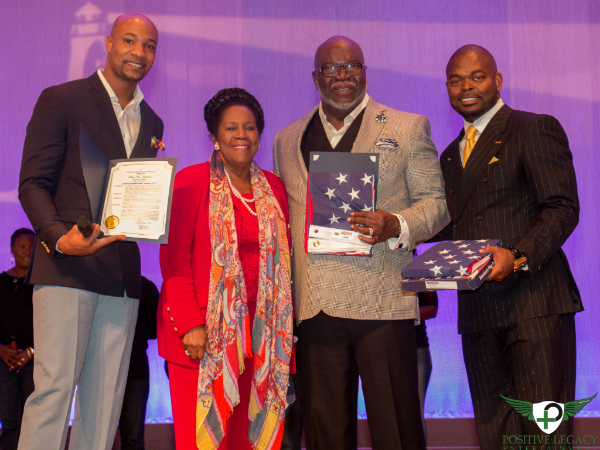 Attendees at the Destiny Empowerment 2015 event, Presented by Keion Henderson Ministries, found themselves inspired toward the purpose God has planned for them and the path that lies ahead of them.
The two day event, held October 2 & 3, 2015 at The LightHouse Church in Humble, Texas, featured keynote addresses from CEO, religious leader, and Best Selling Author Bishop T. D. Jakes, branding segment by Nikki Woods and multi-millionaire entrepreneur and network marketing expert Holton Buggs. Messages of personal mission, perseverance, and self-determination underscored the sessions throughout the event, providing support for those working towards their goals. Bishop Jakes spoke from his new book, "Destiny: Step Into Your Purpose", while Mr. Buggs highlighted his pathways to success through entrepreneurship and networking.
"We had attendees who traveled over a thousand miles to be here with us," said Pastor Keion Henderson. "They left uplifted, encouraged, and inspired to take the next steps into their destiny with the Lord at their sides, and that's what we were here to do."
The red carpet, and event Marketing managed by  ThinkZILLA PR & Consulting Group, was packed with local and national names, including US Congresswoman Sheila Jackson-Lee and Houston Mayoral candidate Sylvester Turner. The red carpet featured hosting by JJ from Houston's own 97.9 The Box; Nikki Woods, Sr. Producer of the Tom Joyner Morning Show; and Amber Shaw of KCOH 1230 Houston.
Their hosting, along with sponsorships from Jive Juice Company, the American Heart Association, and AIG  set the tone of professionalism and success for the event. Red carpet attendees met media representatives and interviewers from TV, radio, and print publications, including Houston Forward Times, Epiq Films, Rolling Out / Alex Green Media, 2 Loud Magazine, KCOH TV, KTSU,The Session TV, HTV, GlammHouston, D-Mars, Empowerment Magazine, Houston Style Magazine,  Click Here for  Fox 26 News Coverage   which also provided live television coverage of the event on Friday evening news broadcast and several others .
About Pastor Keion Henderson 
Pastor Henderson is both a pillar within the community and the award-winning Pastor for The LightHouse Church – which boasts over 4,000+ members.  Besides being a Gospel Charts Billboard artist, and CNN Hero nominee, Pastor Henderson is the recipient of the Community Hero Award at the 2nd Annual Top 50 Black Professionals and Entrepreneurs Awards (Texas) and is ranked among the top 250 leaders by the John C. Maxwell Leadership Institute. Pastor Henderson is a popular speaker, preaching to audiences in the US, UK, Africa and around the world via appearances on internationally syndicated television, radio programs and magazine features and covers. . His gospel single "Give Me More" debuted on the Billboard Charts to critical acclaim. For more information visit www.pastorkeion.com