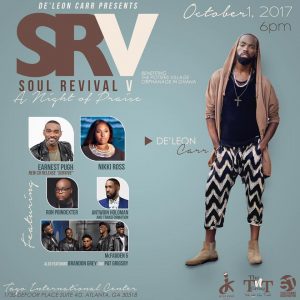 The City of Atlanta has been a part of many fund raising experiences over the years, months and days. Five years ago gospel music artist Deleon Carr decided to bring artists from around the world to Atlanta in support of a community he thought needed his help.  The Potters Village Orphanage (thepottersvilliage.org) located just a little over five thousand miles away from Atlanta in a small town name Dodawah, Ghana who awaits the annual support that started in 2013.
On October 1st, 2017, A Night of Praise "The Soul Revival V" [SRV] lights the stage with anticipation of the continuous success from previous years. This event will be held at the newly renovated Tago International Center located at 1735 Defoor Pl NW, Atlanta, GA 30318. Doors open at 6pm featuring Nikki Ross (Houston, TX), Ron Poindextor (Chicago, IL), Antwoin Holdman & Transformation (Atlanta, GA) and McFadden 5 (Brooklyn, NY). Dove and Stellar Award nominated recording artist Earnest Pugh (Houston, TX) will also join the legion of artist as he celebrate his new album release "Survive."
About Night of Praise – The annual charitable concert has had continuous success and been greatly supported in the city of Atlanta and around the country. The evening provides a wonderful opportunity to expose and promote independent artist's music to the Atlanta area and the many that travel from far away yearly to support. A Night of Praise will be broadcasted live via radio and live stream. There will be radio interviews of all participating artists, and their music will be added to radio rotations during promotion.
About De'Leon Carr – Born in Memphis, TN and raised in Atlanta, GA, De'Leon is the son of a Preacher Woman, and public school educator who instilled faith and education as a priority over everything else. After many years of serving in the background for many in different genres such as Ricky Dillard, Dewayne Woods, Vashawn Mitchell, Shirley Caesar, Byron Cage, Dorothy Norwood, Velmer Watkins to hip hop artist like Dungeon Family and pop icon Celine Dion….It's time for De'Leon to step forward and bless the world with what has been dubbed "Life Music." In April of 2017, De'Leon released his Debut EP titled "Church Boy Soul", with production credits from Will Pierre, Dre Cole, B Slade, Teddy P and Morgan Turner. The album received stellar reviews and charted in the top 25 downloads on Itunes.
Clips from previous Night of Praise (Soul Revival):          
Candy   West                     
Thomas Clay      
Lawrence Flowers & Intercession            
Melonie Daniels