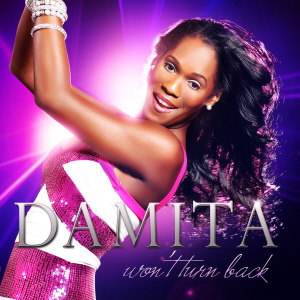 This week in Nashville, there was a huge buzz about Damita's upcoming project Anticipation during the 2012 GMWA Convention and more, but that was just the beginning of her musical voyage.
Damita felt an abundance of love from fans during her CD Listening Party at Jazz and Jokes and when she co-hosted the Urban Soul Cafe' Music event this week.  The love traveled with her as she was interviewed on Gospel Radio 102.1FM, while visiting Nashville.
The next stop on her voyage will be in the great state of Ohio for a few TV tapings. On July 12th, she will perform live in Cleveland, OH on WKYC-TV's show "Good Company" at 10am.  Viewers don't want to miss her live performance of the single "Won't Turn Back" along with more new music.
On July 13th, Ms. Damita will make a guest performance on Lexi's "Fresh Fire" Word Network TV taping. The "Fresh Fire" TV taping will take place at New Spirit Revival Center in Cleveland Heights, OH at 7pm.
Damita is excited to minister and share her story while in Ohio and knows that more exciting times are ahead for her ministry and career.
Anticipation includes songs written by Damita including the radio single "Won't Turn Back".  Other songs from the project are, "Praise You Now", "Be Revealed", "You're Amazing God", "Still Here" and the title cut "Anticipation (Waitin 4 u)".
Anticipation is great mixture of relevant and transparent material reaching listeners where they are and encouraging them to press forward into destiny. The entire project was definitely birthed straight from Damita's heart.