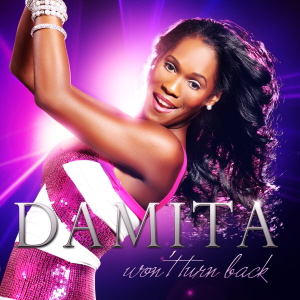 Gospel artist, Damita has been very busy since releasing her second single "Won't Turn Back".  She has been promoting the new single during interviews and other promotional opportunities.
It is without question that Ms. Damita has a lot to say about the new single because of the song's authenticity. Damita penned the hot tune, believes every word and wants fans to stay focused on God's promises no matter how difficult life may be.
The songstress has opened her heart and shared her thoughts with various media including, Elev8.com, YesLordRadio.com, New York Trend Magazine, uGospel.com, EEW Magazine, Ujima Magazine and TheGospelGuru.com, just to name a few.
During her exclusive interview with Ugospel.com, Damita explained a little more about the single "Won't Turn Back",  "The song Won't Turn back means we must continue to move forward, running this race and not giving up at all and making a declaration that we won't turn back."
She also shared what it means to be an artist and who musically inspires her, "Being an artist is about being artistic, forever growing, changing, expanding broadening."  "The people who have inspired me are creative artists, such as Babyface, Phil Collins, Michael Jackson and Rance Allen."
Damita also revealed that she was inspired by her mother, the late Ruby Bass, who studied Opera music. In fact Damita admitted that she still frequently listens to Opera and Classical Music.
In addition receiving love from media and radio, Damita's fans are showing her love via Facebook and Twitter.
Damita is forever growing as an artist, singer and songwriter and it is evident on the current single "Won't Turn Back".
To hear more of Damita's interview on Ugospel.com click here.