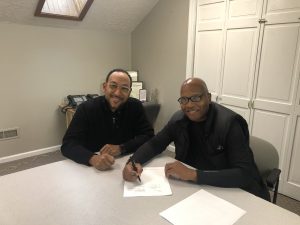 Tyscot Records, the oldest wholly owned and operated African American gospel recording label in the world, has signed a partnership agreement to release music by the Nashville-based DAF Entertainment Group's DAF Gospel label. The first release is the radio single "You Been So Good" by Adriann Lewis-Freeman who rose to fame as the dynamic lead vocalist of gospel girl group, RiZen, which is known for hits such as "View the City" and "We've Come to Magnify the Lord."
The energetic performance fuses a bouncy, old school rhythm with brassy horn lines and a thunderous vocal performance from Lewis-Freeman. "It's a solid song," says WHUR 96.3 FM radio announcer, Jacquie Gales Webb. "I loved it." Other radio programmers are loving it too. WEAM (Columbus, GA), WENO (Nashville, TN), WNAP (Philadelphia, PA), WNOO (Chattanooga, TN) and WAAW (Augusta, GA) all added it into rotation the day the tune was serviced to radio.
"I am excited that these two companies are coming together to advance kingdom music," says DAF Entertainment CEO, Pastor Darin G. Freeman. "Tyscot is well respected in the gospel industry with integrity and proven success. For Tyscot to enter into a joint agreement with a young company, such as DAF Entertainment is very exciting.  We are enthusiastic to bring Adriann Lewis-Freeman, the return of RiZen, super producer Ay'Ron Lewis, and other artists to the forefront of the gospel music world, and we are thrilled to be welcomed into the Tyscot family."
"Pastor Freeman brings a lot of energy as well as multi-talented artists to this partnership," says Tyscot Records CEO, Bryant Scott. "We are happy to work with him and his team to take this music to the world."
DAF Entertainment was founded by Pastor Darin G. Freeman and his wife, Adriann Lewis-Freeman, in the summer of 2016. Aside from DAF, they launched the Nielsen BDS-monitored DAF internet gospel radio station in 2018. Freeman, who matriculated from Lincoln University (PA), and a proud member of Alpha Phi Alpha, is also the pastor of Tabernacle Baptist Church in Nashville, TN.