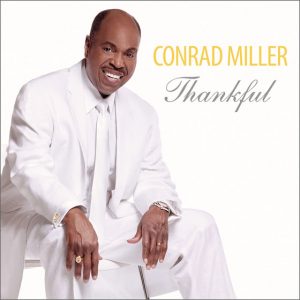 The Distinguished Gentleman of Traditional Gospel Music Conrad Miller has released a new radio single from his popular THANKFULalbum.  Following up from his high energy "Caught Up" radio hit and quartet infused "So Good" single, featuring Garland "Miche" Waller (former Musical Director for John P. Kee), Miller introduces "So Let Us Praise The Lord".
Written by Stellar Award winning songwriter and singer Minister Earl Bynum, "So Let Us Praise The Lord" finds Miller completely in his natural element of traditional gospel music.  Bynum produces "So Let Us Praise The Lord" with the church choir in mind.  The singable contagious chorus and energy driven musicality combined with Miller's expressive love for God on this song will bring a spirit filled atmosphere to any service.
"This single is such an uplifting, happy song for the soul," says Earl Bynum.  "I have truly enjoyed working with Conrad on this album.  He makes producing easy and his tenacity and dedication to keep going should amaze any artist!"
In addition, The 2nd Annual Voices of Gospel Music Awards just announced the 2017 official nominations.  Miller has received his first VOGMA nominations in three categories: Traditional Artist of the Year, VOGMA Artist of the Year and Male Artist of the Year.  Voting is open to the public from now until

June 30

.  The VOGMA awards will be given out 

September 8-9, 2017

at the Mobile Convention Center in Mobile, AL http://www.vogma.org.
In his sincere dedication to music and ministry, Miller will again be on the road this month on a Radio Tour of Kentucky (Louisville), Ohio (Dayton, Cincinnati, Lorain, Columbus) and Pennsylvania (New Kensington, Pittsburgh).  Look for Conrad Miller in your city and listen to "So Let Us Praise The Lord" on your radio.