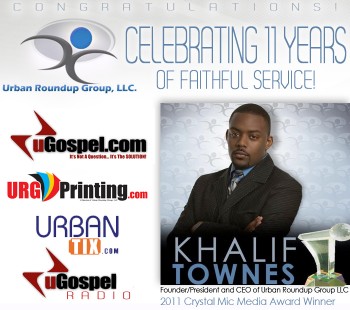 Urban Roundup Group, LLC, a full service marketing and promotion company, celebrates its 11th Anniversary today, August 14, 2012. The company was founded in 2001 by Khalif Townes, President and CEO. Since its launch over a decade ago, Urban Roundup has built an impressive database of approximately 320,000 eBlasts subscribers. Thus, making the company one of the most sought after and effective email marketing businesses in the industry.
"I thank God for showing Urban Roundup so much favor. I'm blessed to have made it this far, 11 years is a long time and it hasn't been easy, but I appreciate everything," says Townes.
In 2011 Urban Roundup won a Crystal Mic Media Award, presented by the GMWA, for its extraordinary eBlast service, now known as uGospel eBlasts. In the same year, Townes was featured in Root Magazine's 2nd Annual Industry Edition for his notable contributions to the Gospel music industry via Urban Roundup Group. Also in that year, Urban Roundup Group's annual production, "Dance Saints, Dance!" was featured in Sister2Sister Magazine.
Over the past 11 years, Urban Roundup Group has experienced tremendous growth and success. The company is responsible for a host of successful services, making it an efficient all-around marketing tool. Each service has its own individual purpose; however, they all complement each other.
The current services provided by Urban Roundup Group includes uGospel.com, a website dedicated to providing the latest news in the Gospel music industry and faith-based community, uGospel Radio, an online radio broadcasting network that's currently ranked #4 among online Gospel radio stations, URG Printing, a printing service, and UrbanTix.com, an online ticketing portal for events throughout the country.
uGospel.com has become the premiere outlet of Gospel and faith-based news. The site features everything related to the industry including new album releases, up-to-date news stories, interviews, artists announcements and plenty more. The site is responsible for interviews with some of the biggest names in the industry like Donald Lawrence, VaShawn Mitchell, CeCe Winans, Le'Andria Johnson, Michelle Williams, Rance Allen, Deitrick Haddon and a plethora of others.
Since its debut in early 2012, uGospel Radio has become the #4 ranked internet Gospel radio station. uGospel Radio plays the best music in all genres of Gospel, which ranges from Contemporary to Traditional and everything in between. BET's Sunday Best Season 2 winner, Y'Anna Crawley has her very own show on the station as well. The show, "Billboard's Top 20 Countdown with Y'Anna Crawley", features the powerhouse singer counting down the top 20 songs on radio with her larger than life personality. It airs every Tuesday at 3 pm EST.
URG Printing, formerly known as 215 Flyers, is a full service flyer printing entity. The website provides color printing for your artist, book, business, conference, CD, DVD, event, ministry, record company, tour, TV show, etc. It offers dependable, high quality printing services at affordable prices. URG Printing accommodates full color jobs with metallic colors and more by using the latest available offset printing technology, which delivers cutting edge graphics.
UrbanTix.com is an online ticketing portal for any event that uses tickets. This service completes the full circle of why Urban Roundup is a full service marketing tool. Urban Roundup offers a design service for flyers, a ticketing portal for tickets and allows clients to promote by using an award-winning eBlast service, highly ranked radio station and prominent website.
The future of Urban Roundup is a promising one. The company is already in pre-production for an upcoming online TV broadcasting network, uGospel TV. The new venture will feature visuals for the avenues already present on uGospel.com and uGospel Radio, such as news reports, interviews and event coverage to name a few. Check out for uGospel TV in the first quarter of 2013. Follow uGospel on Twitter and Like us on Facebook.