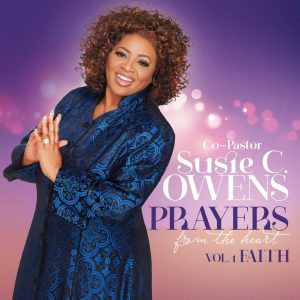 Dr. Susie C. Owens, Co-Pastor of the 7,000+ member Greater Mount Calvary Holy Church in Washington, D.C., is one of the most influential and dynamic evangelists on the mainstream African-American church circuit.
She's appeared on primetime Christian network programs on TBN and The Word Network.  She's also served on a faith-based panel comprised of some of the most dynamic women in ministry, giving insight and inspiration on real-life issues depicted on TNT's hit television show HawthoRNe, starring Jada Pinkett Smith.
Now, Co-Pastor Owens has announced the launch of the four volume "Prayers From The Heart" album series of audio prayer manuals. The first album, "Prayers From The Heart Vol. 1: Faith" (Susie C. Owens Enterprises) releases to digital retailers and in retail stores on
October 9th
.
"For years people have been asking when I was going to release a prayer album," Co-Pastor Owens says. "They didn't ask
if
I was going to do one but
when
.
"  Since 2008, Co-Pastor Owens has hosted a weekly
5 A.M.
prayer call with hundreds of joining intercessors. Those poignant calls served as a source of inspiration for the "Prayers From The Heart" series. "I pray this project renews the listeners' commitment to prayer and also serves as a reinforcement of their faith." "Everyday life can bring about its share of difficulties and even tragedies, which come to try and test our faith," she adds. "As believers, we must stand strong. It is my earnest prayer that this series will be a tool that will aide in strengthening people, an instrument that will undergird their faith as they walk with the Lord and a weapon that will beat back the forces of the enemy who comes to steal, kill and destroy."
The project is segmented into moments of worship and targeted areas of prayer, capsuled within the overarching theme, Faith.  The ensuing prayer sets will include strategic intercession for Family, Healing and Breakthroughs.
A Texas native, Owens holds an A.A. in Early Childhood Education from Brooks College, a M.A. in Religious Studies from Howard University and a D.Min. in African- American Leadership from Fuller Theological Seminary.
She serves alongside her husband, Archbishop Alfred A. Owens, Jr. as they Pastor the Greater Mt. Calvary Holy Church, the largest predominantly African-American church in the city of Washington, D.C.  She's authored three books; "Unless Two Agree" (2000), "Memorable Moments" (2003) and "Soaring Above The Ceiling" (2010). For more information, visit
www.susiecowens.org.