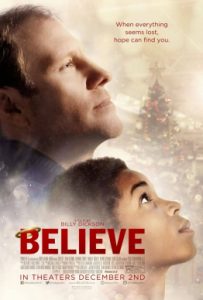 Upcoming family-friendly Christmas movie "Believe" is about a close-knit Virginia community whose hardships bring them together.
"Believe" will be in select theaters nationwide on Dec. 2.
The movie's synopsis reads, "For years, the fictional small town of Grundy, Virginia, has relied on the Peyton family to provide the highlight of the year — the annual Christmas pageant. When Matthew Peyton (Ryan O'Quinn) inherits the family business, the responsibility of the Christmas pageant also falls on his shoulders."
As the movie progresses, viewers will see financial hardships fall on the town and the main character Matthew finds himself overwhelmed. His business profits plummet and his workers begin a strike. When Matthew is forced to make a decision between selling the family business and cancelling the beloved pageant, he faces a rapidly declining loss of popularity in the community and is attacked.
That's when Matthew meets Clarence (Issac Ryan Brown), a boy who believes in God and miracles, and his mother Sharon (Danielle Nicolet). "His newfound friends impact Matthew's life in a way he never thought possible and teach him to believe and give faith a chance."
The film will only open in select theaters next month, but its powerful message of unity among people of all races is already getting attention.
"I'm thrilled to be working with the Smith Global Media team to bring 'Believe' to family audiences everywhere," Ryan O'Quinn, executive producer and star of the film, said in a statement shared with The Christian Post. "With their proven track record in bringing the highest quality of films and entertainment around the globe, I couldn't be more excited to partner with them and collaborate with a group of extremely talented filmmakers. Being able to film in my hometown was the ultimate gift."
Harry Smith, owner of Smith Global Media, added, "We are extremely excited to bring wholesome family entertainment appealing to every genre this holiday season."
Written, directed and produced by Billy Dickson, ASC ("One Tree Hill," "Ally McBeal"), "Believe" is promising powerful performances by an ensemble cast that includes lead actor/executive producer Ryan O'Quinn ("Dad Dudes," "Alias"), Issac Ryan Brown ("Blackish"), Shawnee Smith ("Anger Management," "Grace Unplugged,"), Danielle Nicolet ("Central Intelligence," "The Flash"), David DeLuise ("Wizards of Waverly Place," "3rd Rock from the Sun") and Kevin Sizemore ("Fear The Walking Dead: Flight 462," "Woodlawn") who also serves as producer.