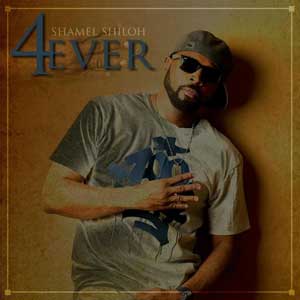 With over 1 million viral hits and 35,000 fans around the world wide web, Christian Hip Hop Artist Shamel Shiloh is still making a buzz in 2012. Delivering extraordinary truths while at the same time maintaining a heavy street sense his realistic verbal communication cuts deep to the core. Shamel Shiloh, based in Northern Virginia/Washington DC area (DMV), is an artist who communicates the truth through Christian hip hop music.
A 2011 GMA Holy Hip Hop Honoree and Best Rap Artist nominee, Shamel Shiloh announced today the release of his new single "4ever", which will be released worldwide on June 19 followed up with an official concept video.
"I feel like I'm releasing my new music at a good time," says Shamel Shiloh*. "We are entering a new season and I am entering a new season in my life. My new singles will reflect where I have been and where I am at now. So get ready for some good music."
Shamel Shiloh's independent debut album HE IS ALIVE was released in January 2008 and debuted at #200 on the Amazon Rap MP3 Charts and quickly skyrocketed to #3. HE IS ALIVE included productions by various producers such as Selrahc, Rocksoul's Lee Jerkins, (cousin of Darkchild-Rodney Jerkins), Mac the Doulos from Everyday Process, and Tony Stone who has produced for heavy hitters such as Lecrae, Da Truth, and Flame.
Shamel Shiloh is an American Christian hip hop artist signed to Holihs Music, the record label that he founded. Shamel Shiloh collaborated with Sean Israel and MattyB in 2009 to form the rap group District Connection and released a full length album entitled MONUMENTAL. Shamel Shiloh has traveled across the country and is involved with mission trips and performance opportunities in the Dominican Republic
As a 2011 GMA Holy Hip Hop Honoree, Shamel Shiloh was recognized for his invaluable service, sacrifice, labor and contributions to the faith based community, uplifting and positively impacting the hearts, minds and souls of children, youth and adults, and in furtherance of the world-wide proliferation of spiritually-enlightening Holy Hip Hop ministry, music and Entertainment by glorifying God. Shamel Shiloh will be releasing a new CD late Summer 2012.