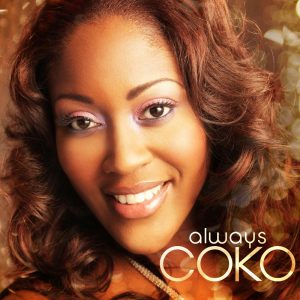 Cheryl "Coko" Clemons, the beautiful soprano of the legendary R&B group SWV, has always been deeply connected to Gospel music.   Over the past few years, Coko released two successful gospel albums, "Grateful" and "The Winner In Me," on Light Records. They will celebrate her gospel roots with the release of ALWAYS COKO, a compilation of her best of gospel songs.
ALWAYS COKO relives her anointed moments on rich upbeat tracks, spirited contemporary tunes and engaging melodies. ALWAYS COKO is a testimony of her journey and intimate look at the heart of a truly gifted artist.
Coko's power-house vocals are showcased on big ballads "The Winner In Me," & "I Surrender." She rises on the upbeat "May Be My Last Time" and simply soars on the fan favorite, the Clark Sisters re-do of "Endow Me," featuring Faith Evans; Little Mo and Fantasia.
From its Urban inspirational, contemporary pop tracks and worship ballads, ALWAYS COKO is a must have for music fans.
ALWAYS COKO will be available May 22, 2012 in stores and online everywhere.
Track Listing:
 1. Endow Me
2. I Get Joy
3. The Winner In Me
4. I Surrender
5. May Be My Last Time
6. Clap Your Hands
7. Mighty God
8. Look At Me
9. The Reason
10. This Is Me