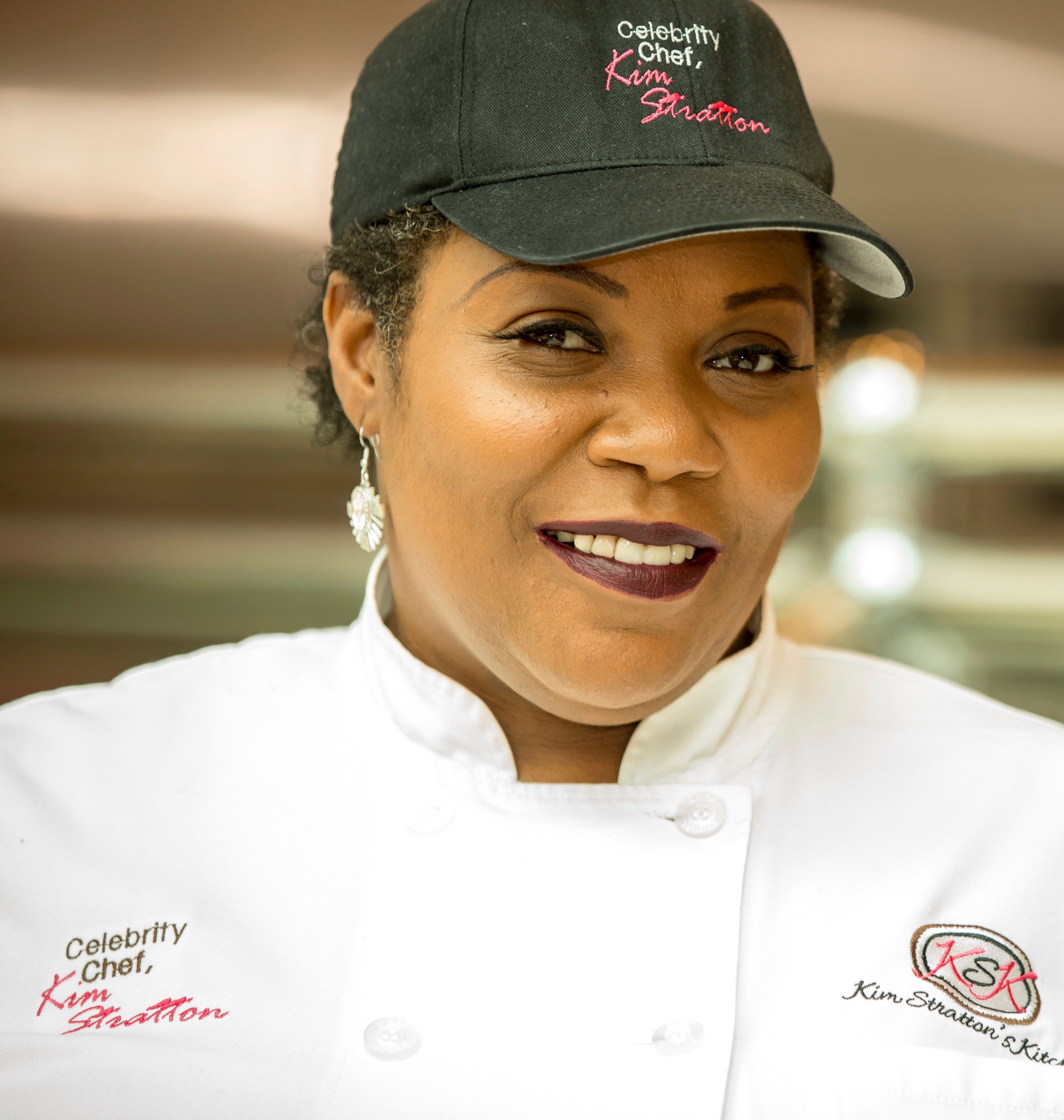 Chef to the stars and owner of Kim Stratton's Kitchen in Chicago – Kim Stratton – is sharing her secret recipe for a Shrimp & Grits breakfast/brunch meal to stave off the hunger pangs of your guests as they await the big Thanksgiving feast.
Stratton, who has catered or served celebrities ranging from Jennifer Hudson to Bishop T.D. Jakes, recently returned to her first love – singing – and released her first recording in six years. The heart and soul new gospel song, "Unto the Lamb" (Kingdom Records), is available for streaming and download at all digital platforms.
 Before opening her catering and restaurant enterprises, Stratton was known for gospel music classics such as "More Than Enough" and Shekinah Glory Ministry's "Broken." She says, "My catering and restaurant business picked up so much that I had to put music on the shelf for a second, but my clients wouldn't leave me alone about wanting new music, so I prayed about it and here we are."  And here is her secret recipe for Shrimp & Grits.
Shrimp & Grits Recipe
Grits
4 1/2 cups water
1 teaspoon salt
1 cup  white grits
2 Tbsp butter
2 ounces cheddar cheese, shredded
Shrimp Sauce
2 tbs Olive oil in skillet add the following
1 cup mushrooms
1 cup chopped yellow onion
1 cup diced tomatoes
2 garlic cloves, minced
1 cup white cooking wine
1 tsp thyme
1 tsp Cajun seasoning
1 to 1 1/2 pounds shrimp, peeled and deveined
2 cups Heavy Whipping Cream
Juice of a lemon, about 1-2 Tbsp
1/4 stick butter
Garnish with:
3 green onions, chopped (white and light green parts only)
2 Tbsp chopped parsley
4 thick slices bacon diced
Bring 4/12 cups of water to a boil. Stir in butter, salt and grits. Reduce heat and simmer until the water is absorbed, 15-20 minutes. Remove from the heat and stir in the shredded cheese.
In a frying pan, add 2 tablespoons of olive oil. Add the mushrooms, yellow onions and sauté a couple of minutes. Stir in tomatoes, minced garlic, wine and season with thyme and Cajun seasoning. Pour in the shrimp and gently stir until the shrimp turns pink – a couple of minutes. Finally, stir in the whipping cream, lemon juice and butter. Set aside.
In a clean pan, fry the bacon to a crisp, Place on paper towel to drain oil. Dice the dried bacon, green onions and parsley and put each condiment in separate serving bowls.
Spoon grits into individual serving bowls and  ladle shrimp sauce into each bowl. Then, garnish with preferred condiments – bacon, parsley and green onions.