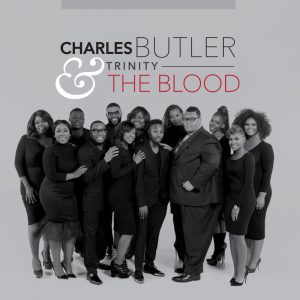 Washington, DC –  Charles Butler & Trinity, a veteran Washington, D.C.-based gospel choir, continue to make big strides in the gospel music industry as they release their second radio single, "The Blood." The song is a fresh, melodic anthem ready to sweep churches nationwide. It's currently No. 63 and climbing on the Nielsen BDS Gospel Airplay chart.
The engaging track was produced by Grammy® Award winning producer Daniel Weatherspoon and it showcases Charles Butler's signature sound of fusing both traditional and contemporary styling.
The new single comes on the heels of the announcement that the group has been nominated for two Stellar Gospel Award nominations for the project, "Make It" (Anointed Sounds Records/Entertainment One). They are nominated in the categories of Choir of the Year and Contemporary Choir of the Year. The 32nd Annual Stellar Awards takes place Saturday, March 25, 2017 at the Orleans Arena in Las Vegas, NV and it will air nationally on Sunday, April 9th @ 7:00 PM, 9:00 PM and 11:00 PM ET on the TV One cable network.
The Make It album also features the group's inspirational song "Make It" which reached No. 21 on Billboard magazine's Gospel Airplay chart. The ten-song set also features guest appearances by Coko of R&B group SWV and Miranda Curtis Willis. The group is now preparing to record their third album "The Blood" on Friday, February 10th at Sanctuary At Kingdom Square in Capitol Heights, MD at 7:00 P.M.
Known as one of the premiere gospel groups in the DC metropolitan area, Charles Butler & Trinity have sung with gospel greats such as Kirk Franklin, Shirley Caesar and Tye Tribbett, among others. They are the backing group on Earnest Pugh's No. 1 gospel radio classic "Rain on Us" and they have been performed on several television programs. Recently, Charles Butler & Trinity performed at the final senior staff dinner for the outgoing Obama Administration at the White House.