CeCe Winans continues to blaze the trail in the gospel music industry with her latest chart-topping release, Believe For It.  After occupying the #1 slot for seven consecutive weeks on the Billboard Gospel charts for best album, the single, "Never Lost" makes its way to the #1 spot at Gospel Radio on both the Mediabase Gospel Chart and the Billboard Gospel Airplay Chart. This accomplishment marks Winans' first #1 single in 15 years since her 2006  hit single, "Pray" dominated the charts.  The debut track, "Never Lost" was the most added song for three weeks straight. All this on the heels of racking up four #1 slots on the Billboard Gospel Charts: #1 Top Gospel album, #1 Total Current Gospel Album, #1 Gospel Digital Song and #1 Top Christian/Gospel Album less than two weeks after street date.
According to Winans, "A song reaching #1 on the Charts is a group effort.  There are so many elements that involve so many people.  I'm grateful to Kyle Lee and Dwan Hill for producing an album that we are so proud of.  I'm grateful to Eboni Funderburk and for the incredible team at Fair Trade – my label for all their hard work.  And most of all I'm thankful that the God of the universe gives us a voice to Praise Him.  My prayer is that the success of "NEVER LOST" only brings honor and Glory to our Lord!"
Believe for It album producers, Kyle Lee and  Dwan Hill leaves no stone unturned on the powerful
12 track offering of worship songs.  Their production takes you on a  journey that's so beautifully woven together it becomes a musical tapestry. Winans adds her distinctive sound and style to the contemporary hymns that has been sung in churches worldwide.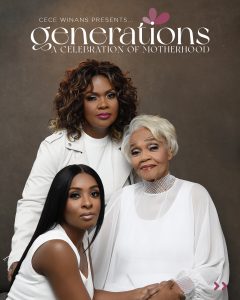 "It's been so amazing and inspiring to get to be a part of the journey of "Believe For It" and "Never Lost" with CeCe.  She is one of the most compelling voices ever, and there's no question that plays a big role in the rise of these songs.  To know CeCe's life, is to know the story these songs tell.  They're more than clever lyrics and hooky production.  They're declarations of faith, rooted in the reality of God's awesome, undefeated power.  I'm so grateful for so many who have championed these songs.  And I can't think of anything more exciting than to know that so many voices are being gathered around such power truths: that nothing is impossible and no battle is too great.  We only have to believe!" says Producer, Kyle Lee.
There's no break in sight for the multiple award-winning singer, Winans invites women of all ages to join her, Delores "Mom" Winans and daughter, Ashley Phillips for a time of reflection and appreciation on Friday, May  7 at 7pm/CT on the singer's You Tube Channel.  In celebration of mothers from everywalk of life, Mom Winans will share words of wisdom learned from her triumphs and challenges of motherhood, while CeCe and Ashley exchange their stories of how things have evolved for each generation. The wonders of motherhood, expands beyond giving birth and these three women come together to discuss the importance of unconditional love and unmovable commitment for the long haul.