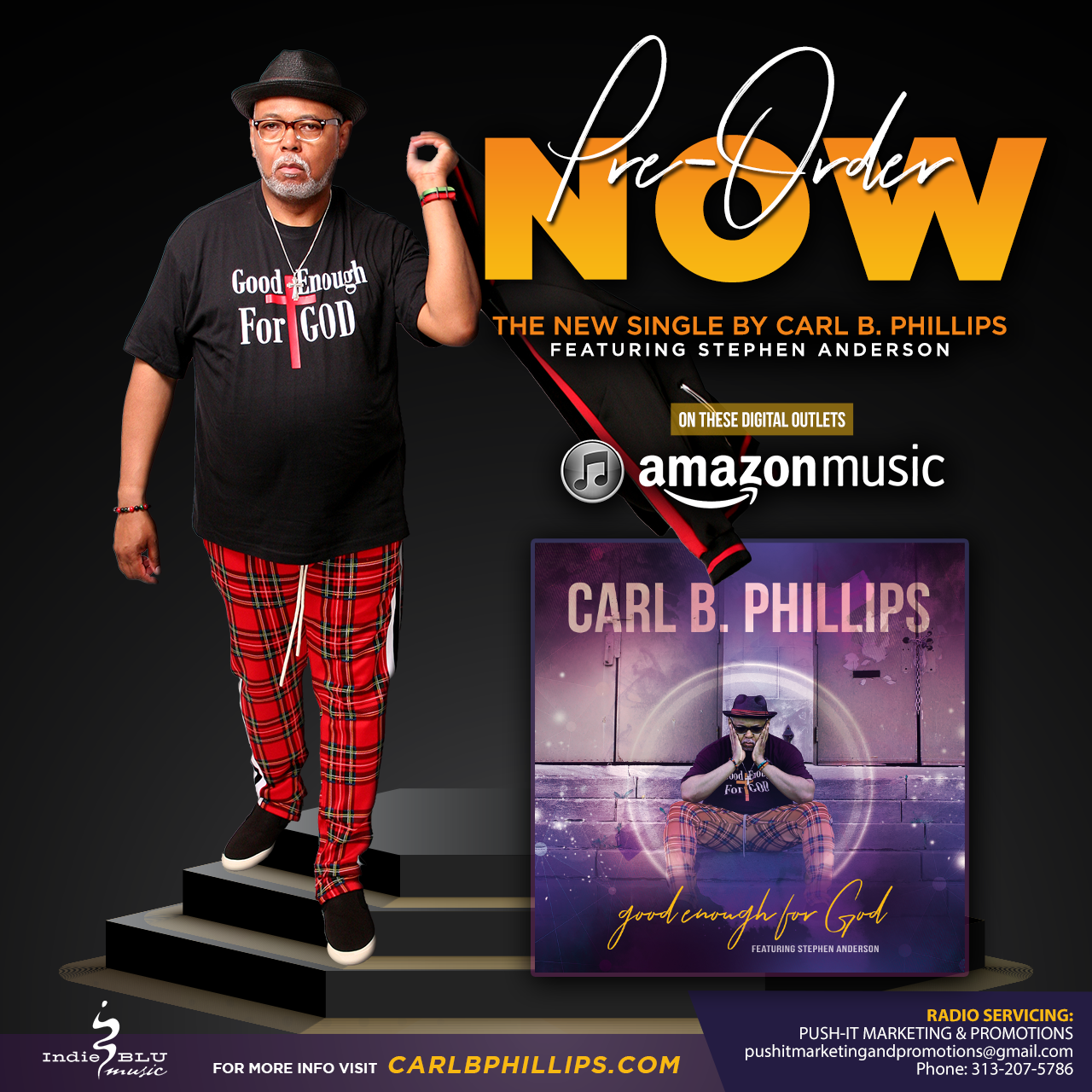 International Gospel recording artist Carl B. Phillips is releasing his new single "Good Enough For God", under a recently signed two-year digital distribution deal with IndieBlu, an extension of Entertainment One Nashville brand. The song is available for pre-order on iTunes and Amazon now and will be released to all digital outlets on Friday April 30, 2021. 
The new single, "Good Enough For God", features a collaboration with fellow Detroit gospel artist Stephen Anderson. Written and produced by Carl, Stephen and Brandon Holland, the song reflects no matter how you are rejected in life, you are still good enough for God. Inspired by Carl's life experiences including divorce, battling depression, and being told what he would not be able to accomplish, the song is a reminder of how God still loves you no matter your life status. 
Carl stated "this is the most personal song I've written and I am excited to share this new single through the partnership with IndieBlu. My goal is to use this platform to bring attention to some amazing gospel artists like Stephen Anderson and producers like Brandon Holland who deserve to be heard on a larger stage."
Darnell Nolin, from IndieBlu Marketing and Promotions, added "I am so excited and honored to be partnering with Carl B. Phillips. He is a true representation of why IndieBlu was created. Being what I call a boutique label that competes with major labels, we wanted to help great artist and music that is beyond our capacity as it relates to signed artist in the traditional sense. Great artist like Carl B. Phillips, his time is now and I… Or I should say we are glad to be along his journey. 
Next for Carl include releasing an EP later in the year and through his company, Prove Me Productions, Carl has partner with fellow producer Ryan Rutley, to produce gospel artist Freddi Rene's new single "In His Presence". 
About Carl B. Phillips
Carl B. Phillips is an International gospel-recording artist, songwriter and producer from Detroit, MI. His debut cd "Great Rain", features the singles "Great Rain", "I Know What God Did Last Summer" "Prove Me" and "Meeting In The Air". In response to the pandemic and injustices, Carl released a remake and video of Stevie Wonder's "Heaven Help Us All" in 2020.  
Carl has performed live in London, Los Angeles, Las Vegas, Nashville, Atlanta and Chicago. His television appearances include, TV-57 Atlanta Live, The Dorinda Show on TCT Network and Dr. Bobby Jones Presents on the Impact Network. Locally, Carl has performed in the Ferndale Front Porch Concert Series, the 2017 Michigan State Fair, the 2018 Detroit Music Weekend, the 2019 Detroit Music Awards. Carl also performed during the 2019 UK Meets USA Gospel Summit. Carl is also the co-host of the YouTube show "In The Studio At Inner Court Live" a weekly show featuring indie artist interviews along with industry and social media tips. 
About IndieBlu 
IndieBlu Music Digital Distribution serves as an extension of the Entertainment One Music Nashville brand in the independent artist space.  Offering a menu of services for up and coming as well as established artists, IndieBlu is THE alternative to the traditional record label route.  By listening to their partners, IndieBlu gives artists the opportunity to control their own destiny and can help artists and their team navigate the currently digital music landscape.