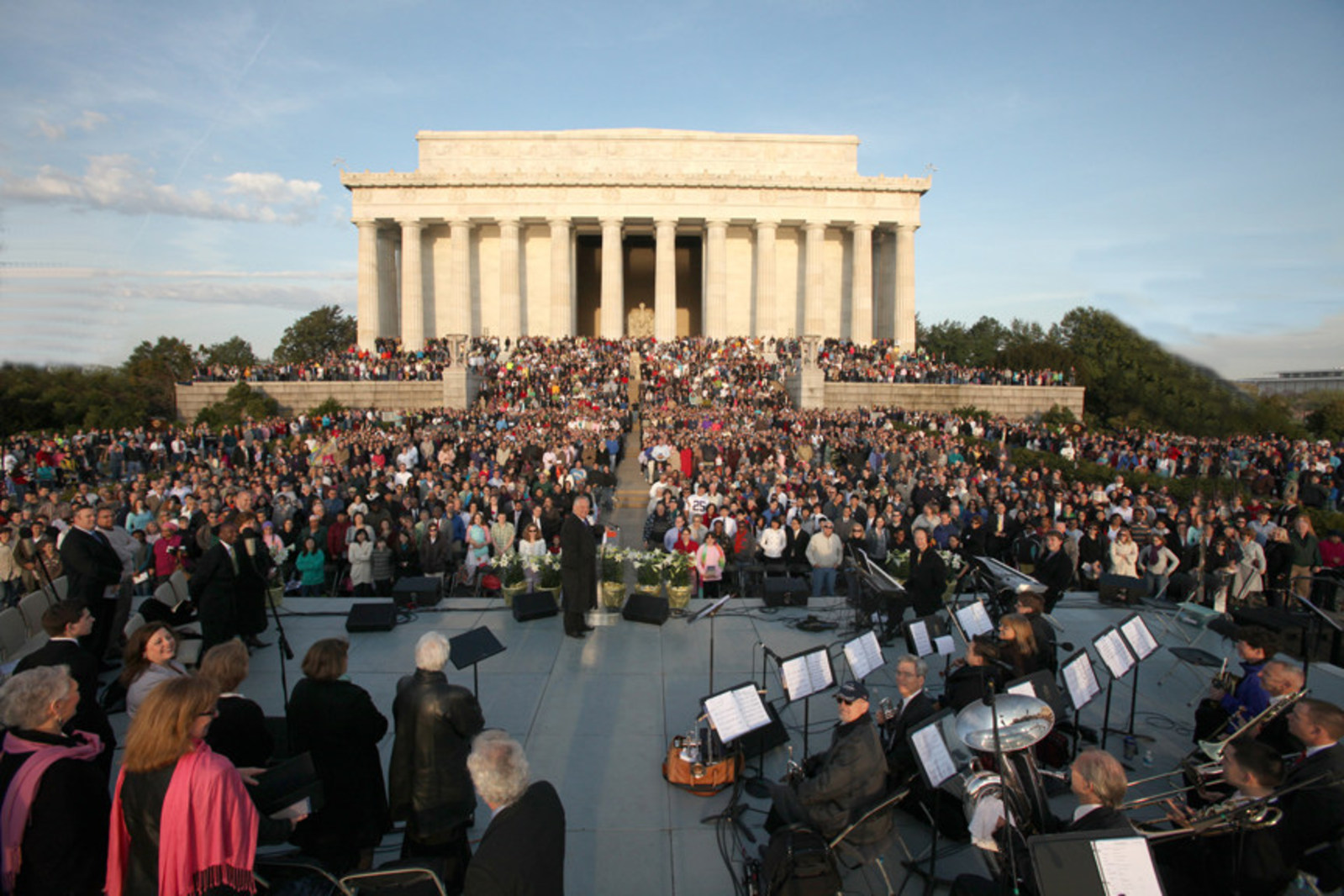 Pastor Amos Dodge and Capital Church of Vienna, VA have announced plans for the 39th Annual Easter Sunrise Service at the Lincoln Memorial in Washington, DC.
The Easter Sunrise service will begin at 6:30 AM on Sunday, April 16, 2017 on the steps of the Lincoln Memorial in Washington, DC.
One of the nation's largest Easter sunrise services, this Washington tradition is #5 on The Great Washington Bucket List published by The Washingtonian. The sunrise service attracts visitors from all 50 states and many foreign countries, with thousands more viewing the livestream at www.eastersunrise.com.
The annual event is organized by Capital Church, pastored by Founding Pastors, Amos & Sue Dodge and lead pastors, Travis & Tara Goodman, and is facilitated by the entire music and worship ministry of the congregation. The event was first established in 1979 and after 39 years it is without question an established Washington tradition.
"When we began this sunrise service, we never dreamed that it would grow to this magnitude," Pastor Dodge said. "The idea to have an Easter Sunrise Service at the Lincoln Memorial seemed to be just a 'thought' at the time. Now I know it was a WHISPER from Heaven! Who would have ever dreamed that what began in 1979 would become a nationally known, even bucket-list rated Washington tradition with over 8,000 in attendance last year!"
Dodge continues: "At the dawn of Easter morning from the heart of the city that influences the world, thousands will gather to say and sing, CHRIST IS RISEN, HE IS RISEN INDEED! We will celebrate the resurrection of Jesus, and by television and internet, the message will not only ring on the Washington mall, it will be heard around the world."
The service is interdenominational, and all are encouraged to attend, however, plan to arrive early as seats fill up fast. The morning is often brisk so be sure to dress warmly and bring a blanket. Directed parking will be provided. More information and live streaming of the service can be accessed at www.eastersunrise.com.