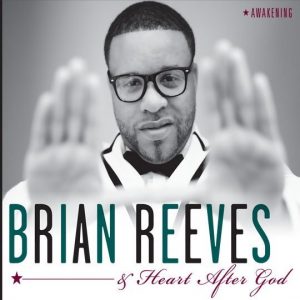 Yes, he is a singer, artist and minister of music, but Brian C. Reeves is also a regular guy, who truly desires a heart for God. Putting all cliché's aside, at the end of the day, Brian Reeves knows how important it is to wait on God and trust His timing.
Timing has been the major theme for Brian's life and career. While singing as a child, he witnessed this, as he was positioned in various arenas to share his genuine heart through song. In 2005, he founded Brian Reeves and Heart after God and through countless testimonies, open doors, and their current project Awakening, God has shown Brian what can transpire, when we trust and run after His heart.
Once again, God's timing has prevailed and on September 7, 2011, Brian Reeves and Heart after God will be featured on the Jawn Murray Presents: UNTAPPED music compilation CD.
Reeves entered the UNTAPPED music competition earlier this yearlike many other artists, and after the submission, he let God do the rest.  Brian and Heart after God are honored to be chosen and excited about the opportunity to reach more people through this major opportunity.
The music competition, "Jawn Murray Presents: UNTAPPED" features 10 new gospel artists that were judged based on criteria set by EMI Gospel based on feedback by Murray, EMI executives and celebrity judges Dr. Bobby Jones ('Bobby Jones Gospel'), singer and TV talent Lexi, Grammy-nominee VaShawn Mitchell and radio host Gerard Bonner ('Bonnerfide Radio').
All in all, Brian Reeves is a man after God's heart, who is taking it one day at a time.   Reeves stated, "I am so honored to have been selected for the Jawn Murray/EMI Gospel untapped competition.  I am floored at God's faithfulness and favor.  I believe God is intentional and our steps are ordered by him and grateful that he has given us the opportunity to further the ministry.  God did not promise that it would feel good but He said it would work for our good. The times when I felt disappointed, when God allowed certain doors to close, I know it's because he has a better plan for my life."