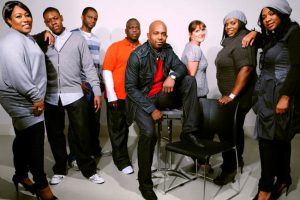 This is an exciting time for the London based Gospel group Brian Martin & Worship 4 Life. With their two singles "Deliverance In Praise (D.I.P.)" and "Just For Who You Are" currently impacting radio in the States, this universal group is also preparing for two extensive tours in the U.S. and Asia in fall of 2013.
Brian Martin & Worship 4 Life's two singles are huge representations of their current project Deliverance in Praise, which was recorded at the Fairfield Hall in London. Deliverance in Praise is a biblically sound project musically built around 2nd Chronicles chapter 20. Encouraging listeners to praise God in everything is truly the goal of Brian Martin & Worship 4 Life.
Their music ministry goal is truly heard through the prominent lyrics, "Deliverance Comes when you Praise, the battle is won when you Praise, all your trials you'll overcome", from their single "Deliverance In Praise".
In addition to recording the project, Deliverance in Praise, Brian Martin & Worship 4 Life group were the 1st UK artist invited by Radio One to sing on the One Love Gospel Cruise.  While in the U.S, they were well received in the Florida area and on the East Coast during several successful tours.
They have also has toured in Slovakia, Czech Republic and other parts of Europe, including Scotland. Brian Martin & Worship 4 Life is very confident in walking out their purpose of communicating God's Word through their musical gifts. As the days get closer to their fall 2013 tours, fans and supporters may view Worship 4 Life's current music on their YouTube Channel.
Check out "Deliverance In Praise" on YouTube here: http://www.youtube.com/BrianMartinW4L