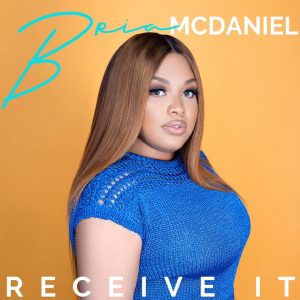 Worship Leader and Psalmist Bria McDaniel's unique and inimitable style of worship takes center stage with the release of her debut single, Receive It.  The song is well on its way to becoming one of this summer's beloved worship anthems and Bria McDaniel is the right person to deliver this message.
No stranger to the power and intensity conveyed through the universal language of music, Bria McDaniel grew up in a home where a love for God and a love for music was naturally instinctive.  Her parents, Bishop Eric and Pastor Subrenia McDaniel were ideal role models for music and ministry, having added their own seasoning to the religious world for well over the last 2 decades as preachers, teachers and equally as effective music ministry gifts.  Among his great musical contributions, Bishop McDaniel penned and recorded while Pastor Subrenia led the original recording of the infectious mega hit One More Chance.  The song was later covered by Lillian Lloyd with Chicago iconic choirmaster Ricky Dillard and New G.  All of this was proper training ground and cultivation for Bria's own gifts to take shape.  With steps ordered by God, Bria joined the ranks of the Stellar Award nominated group Liv're impacting the lives of music lovers, both young and old before taking some time to assist in the care and nurture of her family while assisting in ministry alongside her parents.
Bria was instantly moved upon hearing Receive It, originally done by African Worship Leader Mercy Chinwo.  "The song inspired me, "Bria added.  "As I listened to it more, I simply began to write additional verses and then the bridge and vamp came.  I sat down with my producer Randy Jenkins and explained what I was hearing, and he added the elements to give it its cinematic and ethereal feel, and thus, Receive It was rebirthed."
Bria was privileged to share her gifts during the special Resurrection Sunday Worship service on Easter Sunday hosted by Bishop Hezekiah Walker and the Love Fellowship Tabernacle Church.  Already making waves on the international front, Receive It heads to radio this week with promotional stops scheduled both locally and regionally leading into the Summer.